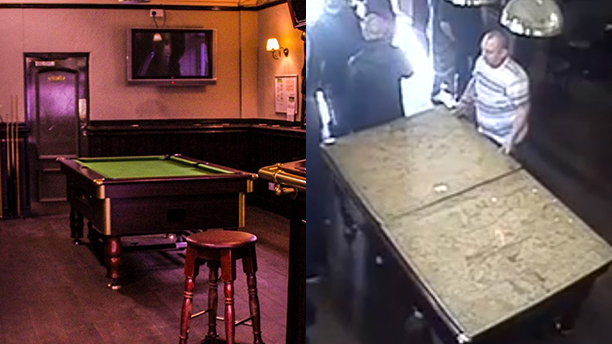 It's hard not to laugh when someone takes a spill, but it's best practice to at least wait to make sure everything is okay.
A British pubgoer did just that, and he is okay, so we can have a giggle. The gentleman was innocently enough enjoying a pint, but unbeknownst to him a couple of helper bees cleared out the pool table that was located behind him.
You can probably take a gander at what happened next, but there's no need for a guesstimate because the pub's security camera caught the play-by-play. CCTV (closed-circuit TV) doesn't pick up audio, so it's like watching an old-timey silent movie:
Did you find yourself yelling at the video like in a horror flick, "Turn around. Turn around." The pubgoer got up, received a cuddle from his friend, and like a pro, he still had some of his pint left.
The video has been making the rounds online with British media outlets comparing the fall to an epic scene in the BBC series Only Fools and Horses. Del Boy (David Jason) is on "the pull," looking to meet some ladies, until he gets into an unexpected scuffle with the pub floor:
Who handled it best: The real-life pubgoer or Del Boy?
See More:
Five Weird British Sitcoms That Will Challenge You as a Viewer
WATCH: Trailer For David Beckham's 'Only Fools And Horses' Skit
10 Things Americans Love About Living in Britain
Read More
Filed Under: