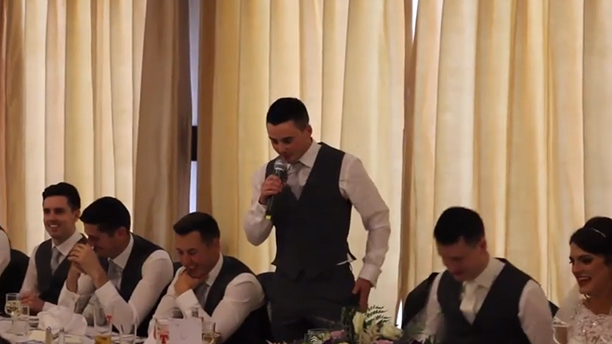 Standing up in front of a group of people to give a speech can be terrifying, especially if you're not prepared, which is what happened when Ciaran Morrison, 26, from Downpatrick, Northern Ireland, reached into his pocket during his friend's wedding to find his best man speech had gone missing, reports the U.K. Telegraph.
Rather than giving up and throwing his hands in the air, or ad-libbing his wedding speech on the spot, he went on a hefty trek to locate his lost speech, which called for running through fields, kayaking across the sea, and riding a horse down a sandy beach:
We were wondering if he wore his wedding suit to film his quest, but we got our answer in the end. And we found out a little more than we signed up for, like that he wears hot pink pants (British slang for underwear) under his trousers.
Okay, okay, the jig is up, and clearly this was filmed prior to the wedding, but what a way to introduce a best man speech. And we got to go along for the ride, visiting locations in Northern Ireland's Downpatrick, located south of Belfast.
Do you think Morrison lived up to his best man duties?
See More: 
Throwing a Perfect Wedding: How to Combine British and American Traditions
British/American Couple Create Magical 'Harry Potter' Wedding
10 of the Most Romantic Moments in 'Doctor Who'
Read More
Filed Under: