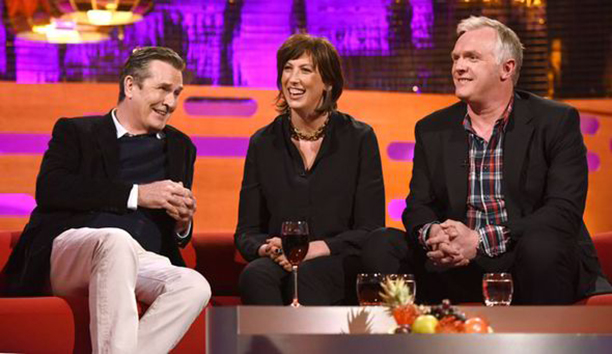 Comedienne Miranda Hart has parlayed her seemingly inherent awkwardness into a successful television career having starred in her own hit show Miranda, where we watched her stumble over her words and feet.
So it's not too surprising to hear that she had an awkward run-in with Prince Harry. The funny girl re-tells the story in the next episode of The Graham Norton Show, which is set to air on Saturday, May 16 at 10/9c.
She sets the stage, explaining she had just presented at the Diamond Jubilee Concert in 2012. Apparently she had made some "flirty" jokes directed at the young prince during her presentation. She attended an after-party at Buckingham Palace where she ran into said prince.
It all started off fine and dandy, as awkward moments do, until Prince Harry fled the conversation, according to Hart.
What exactly did she say to him? Luckily for us she finished the story in the below clip:
Hart will appear on this week's episode (May 16) of Graham Norton with actor Rupert Everett, comedian Greg Davies, and musical guest Electro Velvet.
The Graham Norton Show airs on BBC AMERICA on Saturday nights at 10/9c.
We look forward to seeing Hart starring opposite Melissa McCarthy, Jason Statham, and Jude Law in the film Spy, which hits U.S. theaters on June 5.
How much do you love Miranda Hart?
See More:
Miranda Hart is Winning Over Hollywood One Actress at a Time
WATCH: Miranda Hart Announces New Book in Home Video
In Her New Book, Comic Actress Miranda Hart Asks, 'Is It Just Me?'
Read More
Filed Under: