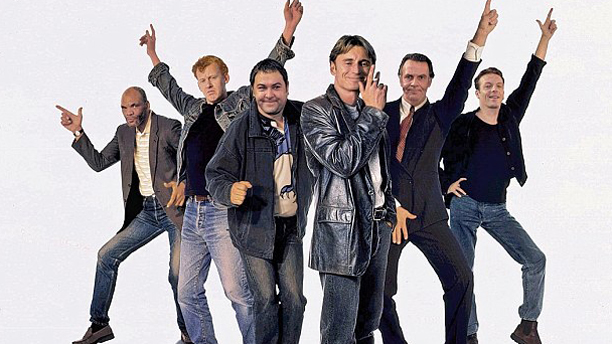 The Full Monty is one of those films you can watch over and over again. Like you're so happy when you come upon it when flipping channels. Sure, "full monty" is British slang for "everything," which is what six men take off in the film to make some quid due to severe unemployment, but it's more than that. The story hits on themes like family, friendship, and surviving the rough times. Of course, there are plenty of funny moments. We're not the only ones who enjoyed the comic relief: The sleeper hit, based in Sheffield, England, is one of the highest grossing films in the U.K. and the 1997 BAFTA winner for Best Film. Screenwriter Simon Beaufoy went on to write Slumdog Millionaire, but what's the cast up to these days?:
1. Robert Carlyle (Gaz)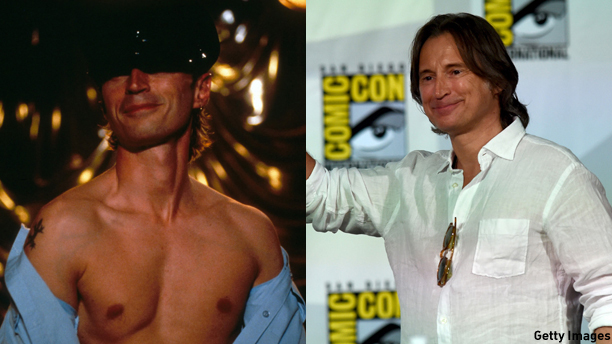 In an attempt to win his young son's respect, Gaz comes up with a plan to make a living by producing a Chippendales-like dance routine, recruiting a ragtag group to help him see this scheme come to fruition.
Robert Carlyle has been most recently seen starring in ABC's Once Upon a Time as Mr. Gold and Rumplestiltskin (2011-2015). Let's hit the rewind button and backtrack: He started off the 2000s with films like The Beach (2000) starring Leonardo DiCaprio and To End All Wars (2001) with Kiefer Sutherland. In 2007, he took on the blockbuster role of an apocalypse survivor in 28 Weeks Later. In 2008, he changed things up a bit making the move to television starring opposite Benedict Cumberbatch in the five-part British series The Last Enemy. Also in 2008, he reunited with Sutherland starring in the 24 TV movie. We can look forward to seeing him in the title role of The Legend of Barney Thomson coming out in 2015.
2. Mark Addy (Dave)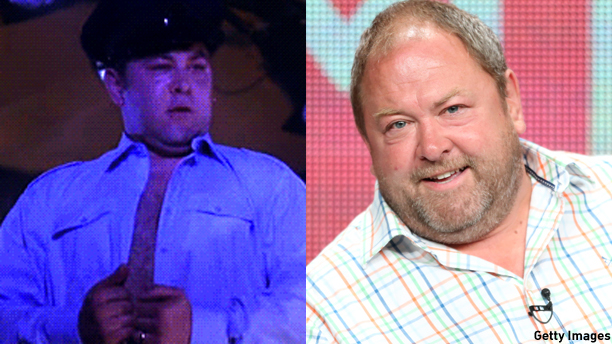 Dave is Gaz's best mate and first recruit. He's willing to give the dancing a go, but he gets cold feet because he's nervous about people seeing him in the nude in his not-so-fit state.
You may remember Mark Addy as the dad in the CBS series Still Standing, which revolved around a family living in Chicago (2002-2006). Since then his CV has been topped up with TV series like Bonkers (2007), Game of Thrones (2011), Great Expectations (2011), The Syndicate (2013), Trollied (2011-2013), Remember Me (2014), and BBC AMERICA's Atlantis (2013-2015). Addy has just recently been confirmed to return to CBS, filming the pilot for the comedy Super Clyde.
3. Tom Wilkinson (Gerald)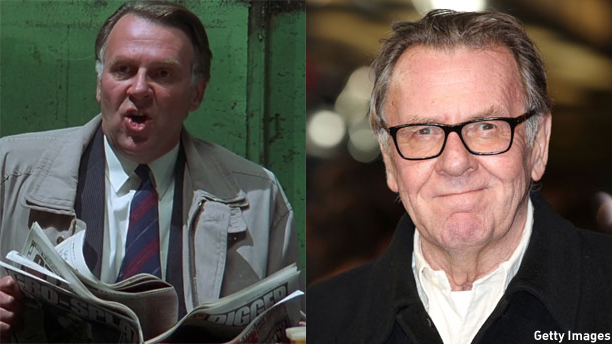 Gerald was the foreman at the steel plant that closed down. He even oversaw some of the other guys. But there's no hierarchy in unemployement; unemployed is unemployed. Now he's one of the guys, and he gets his dance on.
Between 1998 and 2000, Tom Wilkinson starred in ten films including blockbusters like Shakespeare in Love (1998) and The Patriot (2000). He didn't slow down in the 2000s, racking up film credits with films like 2003's Girl with a Pearl Earring, 2005's Batman Begins, and 2007's Michael Clayton. He's no film "snob," also starring in TV miniseries like 2008's John Adams and 2011's The Kennedys. While he didn't make it back for the sequel, we adored him in the original The Best Exotic Marigold Hotel (2011), starring opposite Anglo fan favorites Dames Judi Dench and Maggie Smith. He seems to have a knack when it comes to selecting roles, having appeared in two Best Picture Oscar nominees in 2014, Selma and The Grand Budapest Hotel. We look forward to seeing him in 2015's comedy Jenny's Wedding. He's currently filming Snowden, the biopic of CIA employee Edward Snowden.
4. Steve Huison (Lomper)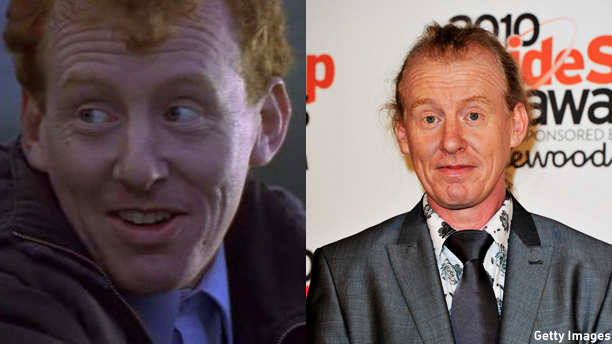 Lomper doesn't know what to do with himself after losing his job. He seems to take it the hardest, securing tubing from his car's exhaust pipe through the window of the running car to off himself. Dave realizes what's happening and pulls him out. Lomper yells at him to bugger off, prompting Dave to throw the young guy back in the car. Ahh, then he saves him a second time. The dance troupe gives Lomper a reason to get up in the morning.
Steve Huison moved to Coronation Street the same year The Full Monty hit theaters (1997). He starred in the popular British soap opera from 1997 to 2011 as Eddie Windass. In spite of his unfortunate surname, his character appeared in 190 episodes. In addition to the long-running drama, Huison starred in the TV miniseries The Last Train (1999), Dinnerladies (1998-1999), Casualty (2000-2006), and The Royal Today (2008). Since leaving Coronation Street, Huison has guest-starred on Scott & Bailey (2014) and Doctors (2014).
5. Paul Barber (Horse)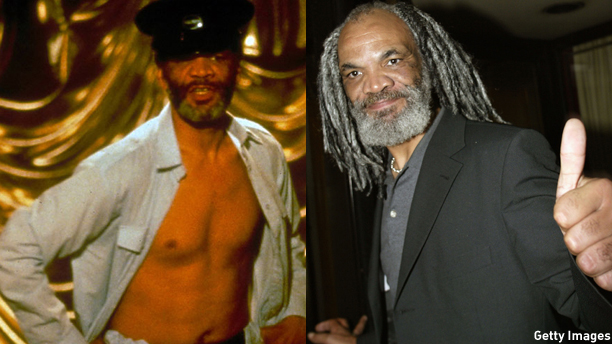 The guys meet Horse at their open audition. When he walks in, they think he might be a tad bit seasoned for their female audience. But they realize he knows his stuff when he starts rattling off dance fads like the Bump, the Stump, and the Buster, even breaking out the Mashed Potato in his tryout. His break dancing days are over, but his audition ends with applaud from the judges' table.
Paul Barber was already in a starring role on TV when he took on the role of Horse. He portrayed Denzil in the British TV series Only Fools and Horses from 1983 through 2003. He had some crossover with other Full Monty alums also starring in Casualty (1991-2011), Doctors (2003), and Coronation Street (2004-2008). In 2008, he starred as Young Nick in the series The Invisibles, which revolved around retired burglars who were masters in their time. In 2014, he guest-starred in Death and Paradise. He also starred in 2014's One Night in Istanbul, the film adaptation of a play about soccer fans attending the UEFA Champions League final in Istanbul. Just last month Barber took a pie in the face in the name of charity.
6. Hugo Speer (Guy)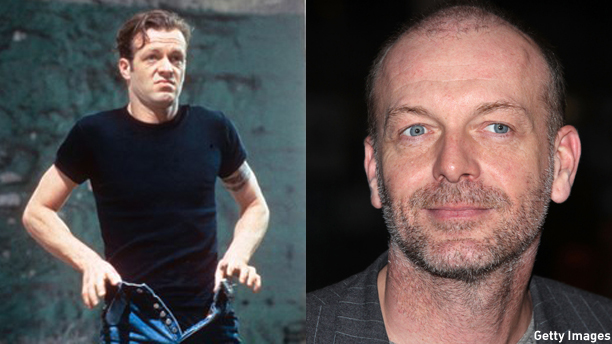 Then there's Hugo. He turns up to the open audition as well, but he can't dance. Gaz asks him,"I hope you don't think of me nosey, but what do you do?" The above picture gives you a hint, rather than us writing it out. We'll just say he brings some "oomph."
Hugo Speer, like the other gents, has kept quite busy since his dancing days. He starred in the British TV series Hearts and Bones (2000-2001), which revolved around a group of friends trying to make it in London. He was spotted in 2005's The Interpreter starring Nicole Kidman. Also in 2005, he took on the recurring role of Sergeant George in the British TV series Bleak House. From there, he's starred in a number of successful series including familiar titles like Agatha Christie's Marple (2008), Midsomer Murders (2011), Vera (2011), Death and Paradise (2011), Father Brown (2013-2014), and BBC AMERICA's Musketeers (2014-2015). In addition to his stellar TV career, Speer turned up in the much talked-about Nymphomaniac: Vol. 1 starring opposite the London-born French actress Charlotte Gainsbourg and the much talked-about Shia LaBeouf.
7. William Snape (Nathan)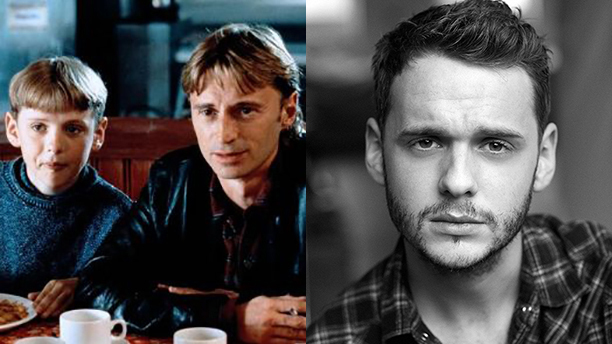 Nathan is where this all started. Nathan is Gaz's young son who wishes things could just be normal. Gaz interprets "normal" loosely, like taking his son to open auditions for his new striptease group.
William Snape, who goes by "Wim," took on the role of Nathan at the age of 12. Snape parlayed his film debut into guest-starring roles on British soaps like Emmerdale (2003), Doctors (2003), and Holby City (2007). In his late twenties, Snape made his return to film and was spotted in 2013's Lost a Girl. In 2015, he guest-starred on the TV series I Live With Models. He's currently working on a feature-length film called Genesis, scheduled to come out in 2016. It seems like he's a working actor doing his thing; perhaps his next big break is around the corner?
Are you in the mood to watch The Full Monty tonight? 
See More:
The Cast of 'Coupling': Where Are They Now?
The Kids of 'Skins': Where Are They Now?
'Ab Fab' 23 Years Later: Where Are They Now?
Read More
Filed Under: