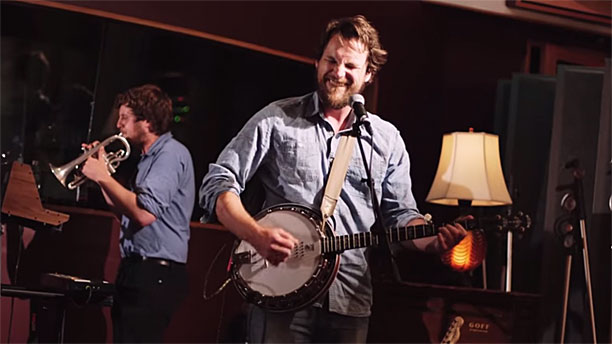 Here's a conundrum; if what you like most about Mumford and Sons is their mix of confessional singer-songwriter stuff with the banging four-to-the-floor backbeat of bluegrass and some nimble-fingered banjo work, where are you going to seek a replacement now they've put the banjo down and picked up electric guitars?
I mean, there are no shortage of string bands in America, and bluegrass has never been more popular as a worldwide musical form. The banjo is one of the most surprisingly-common instruments in pop music right now—ask American Authors if you don't believe me—so that side of things isn't too hard to find elsewhere. But it's the fusion of that banging banjo, close harmony singing and faint whiff of melancholy, the deep-seated and soggy mournfulness and literate regret that comes out of the folk traditions of the British Isles, that will be hardest to replicate.
So, assuming it's a fool's errand to even try, let's have a look and see who else is out there, shall we?
Taking up the baton from Marcus Mumford at his most Old Testament elemental, the Willows have the bluegrass feel and the sense of impending doom. Theirs is not a sound rooted in a search for dry authenticity or over-giddy student japes; they have simply pulled together a sympathetic band of good string players—banjo, dobro, guitar, upright bass, fiddle—around Jade Ward and the stark purity of her voice.
So if the Willows bring the sense of impending doom, it's left up to CoCo and the Butterfields to deliver the fun, as one would expect from a band used to having to entertain passersby on the mean (note: not mean) streets of Canterbury. The CoCos specialize in a strand of hybrid music known as fip fok—a fusion of pop, hip hop and folk—that means they're just as comfortable with the human beatbox and the songs of Britney Spears (particularly "Toxic") as they are with a sea shanty or an ancient lament.
And if that video seems a bit Game of Thrones, well cop a load of this:
If the appeal of Mumford and co. is that they're a homemade gang with self-made talents, coalescing around a bunch of instruments and finding their own sound amid a classic American musical form, well this lot are that thing as well. Five fast-fingered bluegrass players hit the streets of Penzance aged 17 and immediately began to draw attention to themselves with their prodigious proficiency. They've even gotten the stamp of approval from the Governor of Kentucky, but as this song shows in particular, they're still nice boys who know where they're from and are grateful for the support they've received along the way.
Confessional songs about the guilt of love gone bad? Check. Songs that go quiet and whisper soft and then build up to a climax? Check? A trumpet melody straight out of the English brass band tradition? Oh very well then. Bear's Den have toured with Mumford & Sons and share a similar musical outlook to Mumford & Sons without slavishly copying Mumford & Sons, and it seems that banjo is optional (just like Mumford & Sons). Mind you, they are unlikely to ever struggle to find a record label, bearing in mind (pun intended) that band member Kevin Jones is a co-founder of the label with Mumford's keyboard player Ben Lovett.
Yesyesyes, this example does not have banjo in it. But they've got everything else so right they deserve to be on this list, Benji Kirkpatrick plays the tenor banjo on the Bellowhead setlist amid the sea shanties and old folk songs. AND they have a damn sight more of the classic Mumford & Sons hoedown spirit without a banjo than Mumford & Sons do without a banjo. Although, as they've been around for a lot longer, you could just as easily say Bellowhead are a British Decemberists, or less crackers Gogol Bordello, or a more instrumenty Fisherman's Friends. Basically, they're a close harmonizing large group of folky friends with elemental songs and inspirational arrangements. That'll do, surely?
See more:
LISTEN: Mumford & Sons Ditch the Banjos for New Track 'Believe'
WATCH: Marcus Mumford Sings New Bob Dylan Lyric
WATCH: Young Man Hand-Farts 'The Cave' By Mumford And Sons
Five Great British Musical Treats For Bastille Fans
Read More
Filed Under: