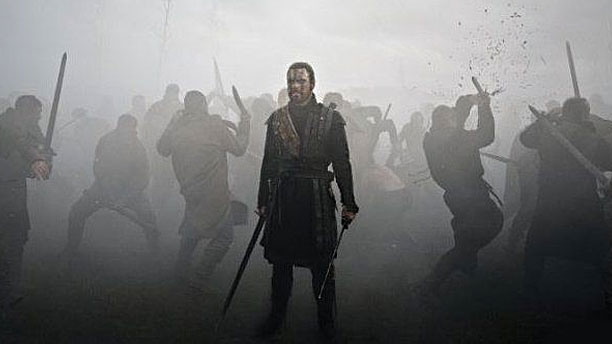 There's a new movie version of Macbeth on the way, with Michael Fassbender playing the title role and Marion Cotillard as his ambitious wife. And according to Michael and his director Justin Kurzel, theirs is a very modern interpretation of events that helps to give fresh significance to some of the supernatural elements at play.
At a press conference for the movie, Michael explained how their version of the story focusses less on the rampaging ambition of the two central characters, and more on the cruel events that have shaped their recent past. Most particularly the loss of a child, and Macbeth's war record.
"[Macbeth is] suffering from post-traumatic stress disorder," he explained. "I'm aware that it's a completely modern interpretation of his actions and it's only now we know what the condition is, we were just as puzzled by soldiers returning from World War One with PTSD, society didn't know what to do with them."
He continued: "I had never thought of Macbeth in that way, but Justin nudged me and said, 'it's obvious, isn't it' and it fell into place. It's actually in the text, in the banquet scene, where he sees the ghost of Banquo, Lady Macbeth has to step in and say, 'he's known to have these bouts and fits.'
"To me it all makes sense – you can't be away at war, all the time, killing people, you don't see your wife, it's in the text that they've lost at least one child, and it was the key to Macbeth for me – I understood his hallucinations, the erratic behaviour, the fits of madness. Strange how Shakespeare understood post-traumatic stress too."
Lady Macbeth has her own very similar reasons for spurring her husband to commit regicide: "I see Lady Macbeth not as the ambitious and power-hungry villainess of history, but someone who is desperately trying to reconnect with her husband and thinks that perhaps if they carry out this enormous act of murder together, it will reconnect them. I find it a more interesting theory than the power-crazy woman. It's less about power and more about filling a void."
Macbeth is released later this year.
See more:
First Look: Michael Fassbender and Kate Winslet in Danny Boyle's 'Steve Jobs'
WATCH: Michael Fassbender Tackles the Western Frontier in 'Slow West'
Michael Fassbender, Domhnall Gleeson Catch the Giggles
WATCH: Sirs Patrick Stewart and Ian McKellen Trade Impersonations with McAvoy and Fassbender
Read More
Filed Under: