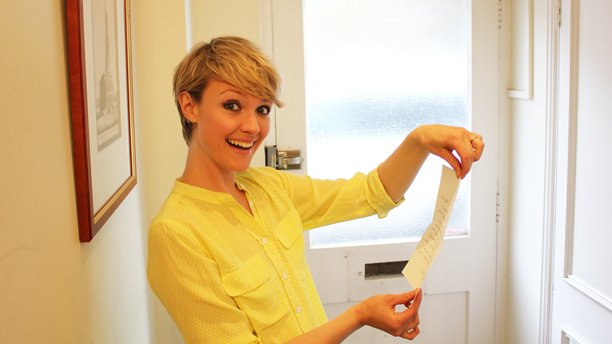 We'd like to welcome aboard Kate Arnell as the brand-new host of the Anglophenia YouTube series. (Watch her first episode.) She comes to us from London where she'll be providing us with her own unique insights into her home nation, the United Kingdom. Kate got her start as a presenter for MTV, and she's worked for CBBC and Disney as well. She's also already a presence on YouTube with her witty recaps of the British reality series Made in Chelsea.
Get to know her just a little better with our Q&A below, in which she reveals her favorite celebrity interview and suitably gushes over David Tennant:
Where did you grow up in Britain? Describe what it was like. Would your family have any funny stories?
I grew up in Portsmouth, a coastal city in the south of England, although my parents are from the North so we would often stay in Lancashire and Yorkshire with family every now and then. My brother and I taught ourselves to sing the alphabet backwards on the long car journeys up there. Six hours of "z, y, x, w, v…."
Portsmouth was a good place to grow up, although I was always itching to move to London, which I finally did about 10 years ago. To me, London feels like home.
Tell us about your career as a presenter. Who was your most fun interview?
I started out at MTV. They were looking for a host for their new channel, so I sent in a tape and got the job! They threw me in at the deep end, presenting live daily shows, interviewing pop stars and playing music video requests. It was great fun and I learned a lot!
Since then, I have presented several kids' shows for CBBC (Hider In The House and Who Let The Dogs Out and About) and Disney and spent a year presenting the National Lottery too.
My first interview was with Jada Pinkett Smith. She came on our show to launch her new music video. She also taaaalks kindaaaaa slooooowwww which I found out when I asked her a question 15 seconds before going to a commerical break. I asked her something about the video and she started saying, "Weeellllll, yoouuu knoooooooow," and in my ear they were counting "5, 4, 3" so I had to cut her off and throw to the break. I felt so bad.
My favorite interview was with Gerard Butler. The poor guy had an eye infection at the time, but he was super lovely, fun and happy to have a laugh. The show was for Facebook, so I asked him if he was on Facebook. Turns out he had been deleted as they thought he was an imposter!
What misconceptions do foreigners have about the U.K.? What's the truth, in your opinion?
That our food is bad. I think, once upon a time, it may have been bad, but now it is really good and getting better all the time! More and more places are serving local, seasonal and fresh produce and using it in fun ways. I'm a bit of a foodie and love discovering new places to eat out.
What's your favorite place to visit in America, and why?
I love America. New York is one of my favorite places, as it's so upbeat, buzzy and even when it's freezing cold, it's sunny! The food is amazing. I'm really into farm-to-table food, and it seems to be really big in New York. I also love Nantucket. My husband and I spent two weeks there a few years ago and fell in love with it: beaches, great food, friendly people and a more relaxed pace of life. We're taking our belated honeymoon in California soon, so I'm sure I'll be smitten with the West Coast too. Bring it on!
How did you meet your husband?
At a mutual friend's dinner party, which I only found out afterwards was a singles dinner party. I just thought everyone was being super friendly! He was the first person I was introduced to, and we had a little dance in the kitchen and NEARLY kissed but got interrupted. We swapped numbers, and I hunted him down on MySpace (old school!), but nothing happened until we met again at another friend's party. We've been together ever since then, eight years. He proposed when we were in New York for Christmas, and we got married in London in September last year.
How do you take your tea?
I'm a loose leaf, Earl Grey kinda gal without milk. No matter what's going on in my world, a hot cup of Earl Grey will set it right.
Pick your poison: what do you like to drink that's a bit harder?
Confession! I don't drink *tumbleweed*. Not what you'd expect from a Brit, right? Does ginger beer count? I love that!
Are you a Doctor Who fan?
I have never watched Doctor Who. I did however get to sit next to David Tennant at a movie screening last year. He was super nice and introduced himself saying, "Hello, I'm David," and shook my hand.
What TV shows did you watch growing up? What do you watch now?
I'm a child of the '80s, so I grew up loving cartoons like Thundercats, He-Man and She-Ra. We also had a show called SM:TV LIVE with Ant and Dec, who are the British equivalent of Ryan Seacrest… but two people. They hosted a three-hour show with Cat Deeley where they just had such fun and did the silliest things with their celebrity guests. Even people like Mariah Carey and Britney Spears were getting involved, wearing costumes and having a laugh! I sometimes just sit and watch highlights on YouTube.
Now, I love Nashville, 30 Rock, and a show called Made in Chelsea (it's like a U.K. version of The Hills)—so much so, that I started making my own little roundups of each episode on YouTube.
Who are some of your favorite YouTubers?
Theodora Lee is awesome. I got to meet her last year and we got on really well. Lauren Singer is a newbie to YouTube, but she already has a strong following on her blog. She lives without making any trash (which I try to do too) so I love watching her for tips.
What's it's like taking over the reins of the Anglophenia YouTube series?
So exciting! I can't wait to share all of the British quirks and customs with you.
Tell us a very British joke.
What does the Loch Ness Monster eat?
Fish and ships!
Follow Kate on Twitter and on Instagram.
See more:
11 British YouTubers Worth Following
Read More
Filed Under: