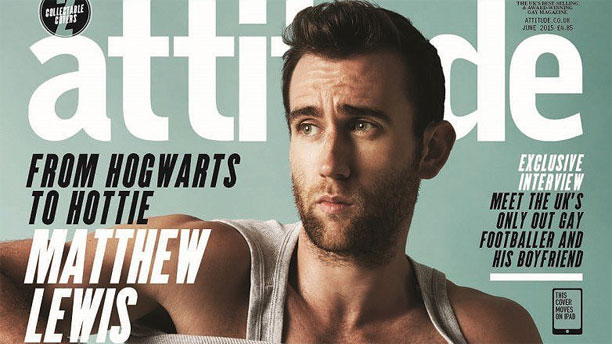 J.K. Rowling does make the internet a fun place to be sometimes.
We all know that Matthew Lewis, the podgy and gawky boy who played Neville Longbottom in the Harry Potter movies, has grown into a handsome and muscular young man. This is one of those transformations that you'd be tempted to call 'magical,' if that didn't belittle all the hard work involved.
Nevertheless, when Matthew appeared on the cover of Attitude magazine this week in a pose that left almost nothing to the imagination (above the waist, at least), it proved to be a startling moment, not least for the woman who created his character in the first place.
This prompted a rather flustered exchange of tweets, recalling Daniel Radcliffe's less-than-covered-up turn in the Peter Shaffer play Equus:
.@Mattdavelewis Not as bad as watching Dan in Equus, but close. Warn me next time, for God's sake. https://t.co/r8EUd1GKqT

— J.K. Rowling (@jk_rowling) May 21, 2015
To which Matthew replied:
Well, this is awkward. Sorry, Jo… 😔 https://t.co/ASSy3vo4d3

— Matthew Lewis (@Mattdavelewis) May 21, 2015
And this maternal sign-off:
.@Mattdavelewis I will always support you whatever you want to do, Matthew. Now go put some clothes on.

— J.K. Rowling (@jk_rowling) May 21, 2015
No wand jokes please.
See more (not like that):
Harry Potter's Classmates: Where Are They Now?
J.K. Rowling and the Very Nice Tweets of Inspiration
WATCH: New Trailer for J.K. Rowling's 'The Casual Vacancy'
J.K Rowling's 'Fantastic Beasts' Starts Filming in 2015
J.K. Rowling Regrets Romantic Storyline in 'Harry Potter' Series
Read More
Filed Under: