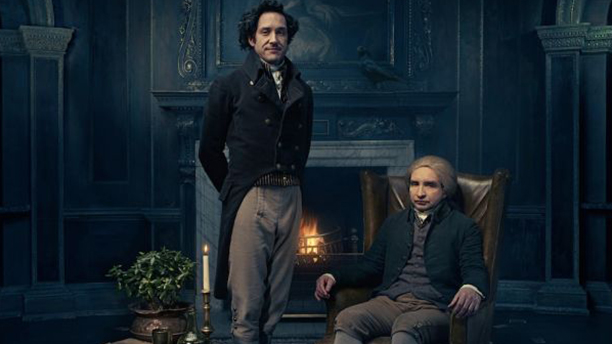 The British summer movies have begun to roll out, and we're just as excited for the Britcentric TV programs we can binge on at home. Sure, you might be keen to head to the beach, or the pub's beer garden if that's more your pace, but in-between outdoor activities this summer you can wind down with new original British series launching in the U.S., additional seasons to series already streaming online, and American shows starring Anglo fan favorites:
1. Jonathan Strange & Mr. Norrell
Network: BBC AMERICA
Launch Date: Saturday, June 13 at 10/9c
Synopsis: The BBC AMERICA original series is fantastical, fun, and funny. Jonathan Strange (Bertie Carvel) and Mr. Norrell (Eddie Marsan) bring magic back to 19th century England during the Napoleonic Wars. The seven-part miniseries has been adapted from the 2005 Hugo Award-winning novel by Susanna Clarke.
The Pull: We could toot our own horns, but we'll let the guys at Den of Geek do so with this outstanding review.
2. Humans

Network: AMC
Launch Date: Sunday, June 28 at 9/8c
Synopsis: This sci-fi series—starring Colin Morgan (Merlin), Katherine Parkinson (The It Crowd), and William Hurt (Damages)—is set in suburban London, taking place in a parallel present. The latest must-have gadget for any busy family is a Synth, which is a highly developed, artificially intelligent servant eerily similar to its living counterpart.
The Pull: We're excited to see Colin Morgan's return to American television. And the rest of the cast of course.
3. Gates 
Network: Hulu
Launch Date: June 
Synopsis: A young married couple (Joanna Page, Tom Ellis) deal with the stress of parenting when dropping their young daughter off at the school gates.
The Pull: This British series illustrates how cliques aren't so different in the U.K.
4. Moone Boy Season 3
Network: Hulu 
Launch Date: May
Synopsis: Created, co-written by and co-starring Chris O'Dowd, this semi-autobiographical Irish sitcom follows Martin (David Rawle), the youngest of a quirky family, as he makes his way with the help of his imaginary friend Sean (O'Dowd). Hulu has just added the third season to their lineup.
The Pull: You're never lonely when you have your best pal with you, even if you're the only one who can see him.
5. Stella Season 4

Network: Hulu
Launch Date: June
Synopsis: Gavin and Stacey's creator and star Ruth Jones does it again with Stella. She stars as a single mother of three in the fictional town of Pontyberry, Wales. She created the series with husband David Peet.
The Pull: We've been missing Gavin and Stacey; this might act as some relief.
6. George Gently Season 7

Network: Acorn TV
Launch Date: August 3
Synopsis: Based in 1964, when "the line between the police and criminals have become blurred," Inspector George Gently (Martin Shaw) of Scotland Yard resigns from the police force when his wife is murdered. Gently decides to take on one last case where he meets copper John Bacchus (Lee Ingleby).
The Pull: It's always fun to see if we can figure out the whodunit before the episode comes to an end.
7. Wayward Pines
Network: FOX
Launch Date: May 14
Synopsis: Ethan Burke (Matt Dillon), a Secret Service agent, goes looking for two missing agents. He finds himself in the wacky town of Wayward Pines. Everyone is super nice and friendly, which in itself could be a red flag. He finds one of his missing coworkers, but she's not the same as when she left. We meet Dr. Jenkins, played by British actor Toby Jones (The Girl), in the first episode. He tries to help Burke ease into his new town.
The Pull: While this is an American series, it has that British feel. It makes us think of Black Mirror.
8. Sense8
Network: Netflix
Launch Date: June 5
Synopsis: In this Netflix original eight different people, in eight cities, find themselves mentally connected. Each person adopts the other seven's thoughts, memories, and feelings. The series is topped up with British actors Naveen Andrews (Lost), Freema Agyeman (Doctor Who, Torchwood), Tuppence Middleton (Jupiter Ascending), and Aml Ameen (The Maze Runner),
The Pull: Having seven people in your head sounds very overwhelming, but there is an intimacy that comes with it.
9. Poldark 
Network: PBS 
Launch Date: June 21
Synopsis: Ross Poldark (Aidan Turner) returns home to Cornwall, England, after fighting in the American Revolutionary War, only to find his fiancé engaged to his cousin. The eight-part series is based on the bestselling series of novels by Winston Graham.
The Pull: We're intrigued to see if he gets her back.
10. Vicious Season 2
Network: PBS
Launch Date: August
Synopsis: Real life friends Sir Ian McKellen and Sir Derek Jacobi portray a couple who have been living together for over 50 years. They are in a loving, committed relationship but sometimes they just don't really like each other.
The Pull: Watching two titans go at it. And then make up.
Summer hasn't even begun yet, but it tends to whiz by fast, and soon we'll be ready for the rest of BBC AMERICA's 2015 lineup including Doctor Who, Last Kingdom, and Atlantis.
Which show is calling your name most? 
See More:
British Summer Movie Preview: 9 Flicks on Our Watch List
15 TV Shows We're Looking Forward to in 2015
10 TV Shows Every Brit Knows – Anglophenia Ep 10
Read More
Filed Under: