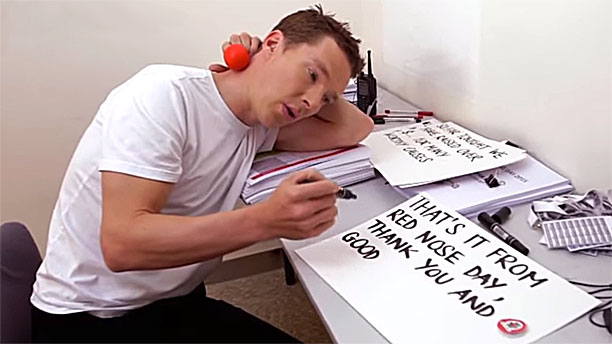 Red Nose Day arrived at NBC yesterday, and among the fun and hoopla, an avalanche of British stars turning out to perform skits and songs and generally lark about. They're doing so in order to raise money for Comic Relief, a charity set up by Richard Curtis and British comedian Lenny Henry to tackle famine and other effects of global poverty.
Look, here they all are in one hit, a BAFTA of celebrities; Cumberbatch, Mirren, McKellen, Redmayne… the lot:
https://www.youtube.com/watch?v=GEJCg67Fe8Q
And, taking things up a notch, Chris Martin and Coldplay made this short film—narrated by Liam Neeson—about their musical of Game of Thrones, starring some of the cast of Game of Thrones:
https://youtu.be/vAiRvXnL6jE
And there were these shocking revelations for fans of Daniel Craig, Hugh Grant, Hugh Bonneville, Liam Neeson and others:
https://www.youtube.com/watch?v=axPrl9MafmM
And to round things off, Ed Sheeran sang "The Rainbow Connection" with Kermit the Frog:
https://www.youtube.com/watch?v=SwVIMN7m-lw
It was that kind of a do.
See more:
Before Red Nose Day Hits America, Watch 10 Great British Moments
Red Nose Day Highlights: 30th Anniversary Tops £1bn in Fundraising
WATCH: David Tennant Pulling Faces for Comic Relief
WATCH: 'Doctor Who' Returns with Comic Relief Mini-Episode
Read More
Filed Under: