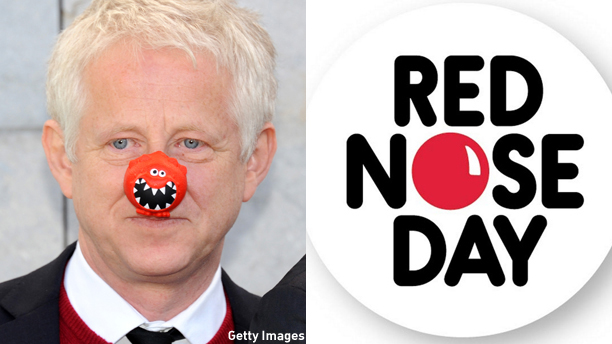 While Comic Relief's Red Nose Day fundraising event has been happening in the U.K. for 30 years, it's new to the U.S. this Thursday, May 21, airing on NBC at 8/7c.
Red Nose Day co-founder Richard Curtis (Bridget Jones, Notting Hill) has recruited comedic actor Jack Black to help him in his efforts of bringing the show to the U.S., sending Black to Uganda to spend time with children living in poverty.
Curtis talked about selecting the American comedian as a Red Nose Day ambassador, saying in a conference call, "What was so brilliant was that Jack went open-eyed as a normal human being. He just happens to be a human being that most people know or feel they know."
Black returned the sentiment, saying, "You spend some time with Richard and you see what he's done in the U.K. with Red Nose Day, and it's just impossible to say no to the guy, or at least it was for me."
It turns out Curtis has quite a few friends who were keen to say "yes," with a long roster of British and American personalities joining in the U.S. edition of the telethon including One Direction, Robert Pattinson, Jennifer Garner, Keith Urban, Zac Efron, Dame Helen Mirren, and Jimmy Fallon. British band Coldplay has written a skit to be performed by members of the cast of Game of Thrones.
In preparation for the upcoming U.S. Red Nose Day, let's take a peek at 10 of the best British moments:
1. David Tennant goes head-to-head with Lauren Cooper.
2. Dawn French faints at the thought of snogging Hugh Grant.

3. Elton John gets quizzed by Little Britain's Daffyd.
4. Johnny Depp swings by the village of Dibley to make a film.
5. Rowan Atkinson embraces his inner Doctor.

6. Elaine Figgis snags James Bond as a boyfriend. 
7. James Corden takes George Michael for a spin and a sing-along.

8. One Direction performs Blondie's "One Way or Another" in studio.
9. Jessie J shaves her head in the name of charity.
10. Radio presenter Dermot O'Leary dances for 24 hours straight. 
In 2015 the event hit the the £1 billion ($1.5bn) mark in fundraising:
One billion pounds = one billion thank-yous to everyone who has ever donated. #RND15 pic.twitter.com/CN0CJk82CH

— BBC One (@BBCOne) March 14, 2015
You can pick up your red nose at Walgreens and tweet a picture using #RedNose.
We might get some funny looks heading to the office wearing a clownlike nose the morning of with this being the first year, but it's not about us, and you can consider yourself trendsetters being in-the-know Anglophiles.
We're looking forward to new "best" moments with the U.S. edition!
See More:
Red Nose Day Highlights: 30th Anniversary Tops £1bn in Fundraising
WATCH: 'Vicar of Dibley', 'Little Britain' and James Bond Turn Out for Comic Relief
Read More
Filed Under: