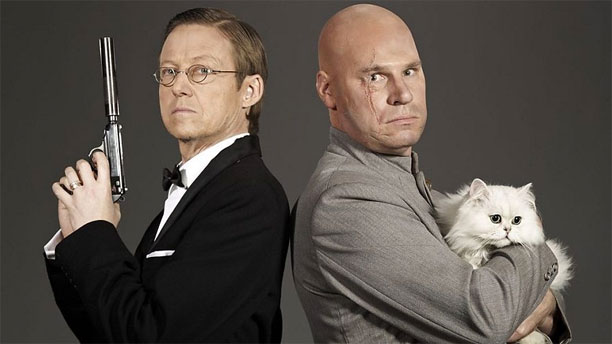 The true-life murder mystery Serial became a worldwide phenomenon late last year, focusing attention on the art of podcasting. Here's a selection of podcasts from the other side of the Atlantic. Some are long and involved and will spark a lifelong loyalty with secret codes and special handshakes and all that stuff. Others are short, punchy and helpful, but they're all delightful.
Mark Kermode and Simon Mayo's Film Review
You may already subscribe to various movie podcasts, with interviews and snippets of news and whatnot. But do any of your podcasts heavily feature the sound of two men—old enough to know better—gently bickering as one attempts to review movies and the other attempts to keep his loftiest conceits and withering pedantry rooted to the ground? Does your movie podcast call itself "the BBC's flagship film program" with a twinkle based entirely on self-depreciation? Does your movie podcast pause to say hello to Jason Isaacs? Does it encourage (without ever openly asking) fans to shout "Hello to Jason Isaacs!" if they should happen to see him in real life? Does your movie podcast call itself wittertainment (or @wittertainment, for Twitter users) with emphasis not on wit but wittering? And if the answer to these questions is no, that is because your movie podcast is not up to snuff.
Find it: BBC 5 Live / iTunes
James O'Brien's Mystery Hour
It's rather odd to listen to a talk radio show in which the presenter—London-based LBC's James O'Brien, in this instance—seems somehow not to know everything already. The Mystery Hour is, as you may expect, an hour-long weekly show in which mysteries are investigated. But this is not Serial. There are no unsolved murders to explore. The questions under discussion include "What is deja vu?", "Why do toes curl up when we're embarrassed?", "Why do all crisps expire on a Saturday?" and "How many gigabytes does a brain hold?"
Listen To Lucy
Hosted by the Financial Times's Lucy Kellaway, this is the very opposite of Kermode and Mayo, which is what you want from a podcast that aims to skewer the latest idiocies of business language and management guff with ruthless efficiency. Where they are warm and friendly, Kellaway is cold and sharp. Where they are rambling and imprecise, she is pernickety (which is how the Brits spell persnickety, so don't start) and concise. Their podcasts last more than a hour; hers last precisely five minutes each. If you want something in your life that suggests that you should try harder and maybe talk a little less nonsense, this is for you.
Find it: Financial Times/iTunes
Oxford Biography
Note: click on any of the names to download their podcasts.
Even if you're a totally committed Anglophile with a Union Jack bedspread and teabags where your coffee filters usually go, some names in British history—old and new—will prove to be baffling. Who is Arthur Lowe? How has Christina Carpenter's name resounded down history when she was locked away from her own society? Why should we all be thankful to Ada Lovelace? All the Oxford Biography podcast does (taken from the Oxford Dictionary of National Biography) is tell the story of these people—including George Orwell, Freddie Mercury, Amy Winehouse and Piltdown Man—with restraint and a lack of editorial critique. The fun is in listening to each new one as it comes in (assuming you don't already know them) and finding out what their significance to British life may be.
Find it: Oxford Biography/iTunes
Desert Island Discs
But if you really want to know what makes someone tick, take a look at their record collection. That's the conceit behind the BBC Radio 4 program Desert Island Discs, which has been running since 1942. It was devised as a radio show in which an interviewer asks a famous or notable person to nominate eight records that would provide comfort if stranded on a desert island, plus one book and one luxury. But the format is perfect podcast fodder, as each show is around 30 minutes long, and everyone from David Tennant to J.K. Rowling offers a version of their life story with unexpectedly emotional musical highlights. Best of all, the archive of past programs is being digitized, so you can investigate old interviews with Christopher Reeve or James Stewart.
Find it: Desert Island Discs/iTunes
Oh, and without meaning to make this a total BBC-fest, you should probably be aware of…
The Infinite Monkey Cage
It's a science discussion show presented by Professor Brian Cox and the comedian Robin Ince, and despite wishing to be entirely rigorous and scientifically valid, they did spend quite a lot of time trying to work out at which point it is scientifically safe to say a strawberry is dead. They also boast a theme song by Monty Python's Eric Idle, in which he channels the spirit of the great 1940s comedian and singer George Formby:
Find it: BBC Radio 4/iTunes
See more:
WATCH: Stephen Hawking Sings Monty Python
Professor vs. Doctor: It's A Science-Off!
Happy 70th Birthday, 'Desert Island Discs'
Why Did America Drop The 'U' In British Spellings?
Read More
Filed Under: