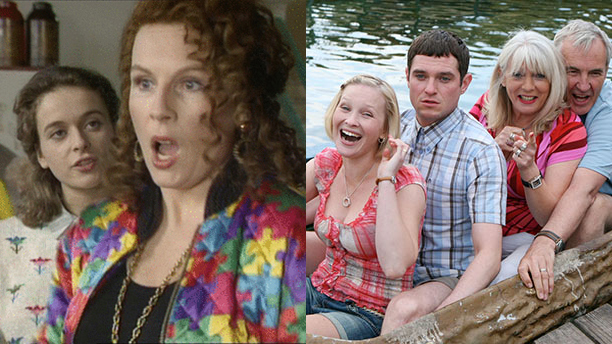 Moms, or mums depending on where you live, should be appreciated every day versus just Mother's Day (May 10), said to me by my own mother. This sentiment is absolutely true, but at the same time it's nice to have one day set aside to remind you to remind her just how much she's appreciated. If you can't quite find the words, these five TV mums might provide some inspiration:
1. The Narcissist
Absolutely Fabulous's Edina Monsoon (Jennifer Saunders) is amazing at her PR job but tends to falter in other areas of life. She is twice divorced, drinks too much, and definitely puts her shopping indulgence and best friend Patsy (Joanna Lumley) before her teenage daughter Saffy (Julia Sawalha). In some cases, more often than not, Saffy is the one acting like the parent. You may ring your own mom and say something like, "Mom, I am so glad you don't pop pills like Eddy."
Watch Absolutely Fabulous on Hulu Plus.
2. The Workaholic
Growing up with a career-minded mom has its benefits, she's a great role model and you get to visit her at work. But when your mom's job description includes time traveling, things can get weird like in the case with the Doctor's companion Amy Pond (Karen Gillan) and her daughter River Song (Alex Kingston), who is—or at least appears to be—biologically older than her own mother. If that doesn't quite make sense, the Doctor Who episode, "A Good Man Goes to War," will explain how the age difference came about. Maybe you can send a handmade TARDIS card to your mom, saying, "Thanks for giving birth to me on planet Earth. It's cool you're age-appropriate."
Watch Doctor Who's "A Good Man Goes to War" on Hulu.
3. The Party Mum
The Royals' Queen Helena (Elizabeth Hurley) isn't like any Queen Mum we've seen before. She's fashion-forward and all about having fun. She doesn't apologize for anything, but she is Head of State after all. It's got to be hard when your mum is the hottest woman in the room. You can greet your mom on Mother's Day with, "Mom, I'm glad I don't have to make an appointment to meet with you."
Watch The Royals on Amazon Instant.
4. The Wicked Godmother
Bleak House's Esther Summerson (Anna Maxwell Martin) is raised by her Godmother, but she is no fairy. When there's a Godmother in the picture, it may be because the mum has passed away, but this story is switched around: Esther's mother (Gillian Anderson) believes her daughter is dead. Her mum's sister Miss Barbary (Kelly Hunter) raises Esther as her own, but she's a real jerk about it. Why bother if you're going to be wicked? There may already be a Hallmark card for this, "I'm glad you're not really my auntie secretly posing as my Godmother."
5. The Smotherer
Gavin and Stacey's Pam Shipman (Alison Steadman) is just adorable. We love her, but could you imagine if she were your mother-in-law? She waits on her son Gavin (Mathew Horne) hand and foot, pampering him to the point of exhaustion. It's a wonder how Gavin even had the chance to leave the house to meet up with Stacey (Joanna Page). If you'd like to celebrate your mother-in-law on Sunday this may do the trick: "Thank you for not calling your son, my husband, 'Little Prince' well into his early twenties."
Watch Gavin and Stacey on Hulu.
Don't forget to call your mom on Mother's Day!
See More: 
The Greatest Moms Of 'Doctor Who'
WATCH: Benedict Cumberbatch and His Mum at the Chelsea Flower Show
Scottish Man Surprises His Mum on Graduation Day with Degree
Read More
Filed Under: