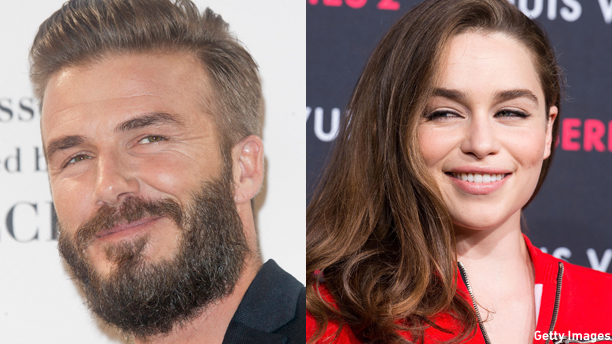 American celebs like Kim Kardashian and Taylor Swift taking selfies may come to mind when talking about Instagram, but there are a number of British celebs moving in on their turf. David Beckham just joined Instagram, kicking off his 40th birthday (May 2) with his new account, and within one week he broke a record for the fastest growing Instagram account with 5.6 million followers. Facebook and Twitter are great ways to keep up with your favorite celebs, but Instagram appears to get a little more goofy, a little more personal, with all of the snaps shared:
Posts: 24
Followers: 5.8 million
Following: 51
Draw: He celebrate milestones like birthdays and Mother's Day with us.
Posts: 640
Followers: 5 million
Foll0wing: 28
Draw: She lives the model life. And she has a sense of humor about it.
Posts: 126
Followers: 2.8 million
Following: 143
Draw: Instagramming runs in the family.
4. Jamie Dornan
This guy! A photo posted by Jamie Dornan (@jamiedornan) on
Posts: 6
Followers: 994,000
Following: 0
Draw: He plays well with others.
Posts: 2,493
Followers: 12.2 million
Following: 1,268
Draw: Her goofballness is infectious.
Posts: 474
Followers: 281,000
Following: 16
Draw: He's a cat lover and proud of it.
7. Emma Watson
Posts: 5
Followers: 2.8 million
Following: 0
Draw: She's a woman on a mission.
Posts: 3
Followers: 208,000
Following: 27
Draw: She's super new to Instagram, but we enjoy her hamming it up.
Posts: 1,672
Followers: 1.8 million
Following: 654
Draw: She's a colorful girl. Literally!
10. Ellie Goulding

Posts: 2,577
Followers: 5.2 million
Following: 327
Draw: We get to travel the world with her.
11. Niall Horan
Posts: 439
Followers: 9.6 million
Following: 193
Draw: His non-boy band interests shine through.
12. Maisie Williams
Posts: 145
Followers: 896,000
Following: 133
Draw: We get to see Maisie's girly side when out of character.
13. Lena Headey
Posts: 218
Followers: 408,000
Following: 63
Draw: Lena leans toward goofy. She's great for a giggle.
14. Russell Tovey
A photo posted by Russelltovey (@russelltovey) on
Posts: 855
Followers: 147,000
Following: 447
Draw: Russell is about posting snaps of his French Bulldog Rocky. 
15. Michelle Dockery
Posts: 267
Followers: 171,000
Following: 95
Draw: We get to go to brunch with her.
16. Iwan Rheon

Posts: 162
Followers: 57,000
Following: 0
Draw: Being reminded he's not like his Game of Thrones character Ramsay.
17. Jamie Oliver
Posts: 2,704
Followers: 2.7 million
Following: 802
Draw: Sure, Jamie's cute, but it's the food snaps that make us go back. 
18. Lisa Vanderpump 
Posts: 427
Followers: 597,000
Following: 45
Draw: The British matriarch of The Real Housewives of Beverly Hills gets nostalgic on her account.
19. Tom Daley

Posts: 731
Followers: 974,000
Following: 255
Draw: He brings the guns to the gun show.
20. Great Britain
Posts: 581
Followers: 104,000
Following: 537
Draw: GB is a celeb in its own right, and we get to visit every day.
The above Instagram "stats" are as of Monday, May 11, and are subject to change.
Are you a fan of Instagram?
See More:
Ian McKellen Posts Play-by-Play of 'Beauty
Cadbury Vending Machine Uses Facebook Details to Select Chocolates
10 Weird Things Brits Do in America
Read More
Filed Under: