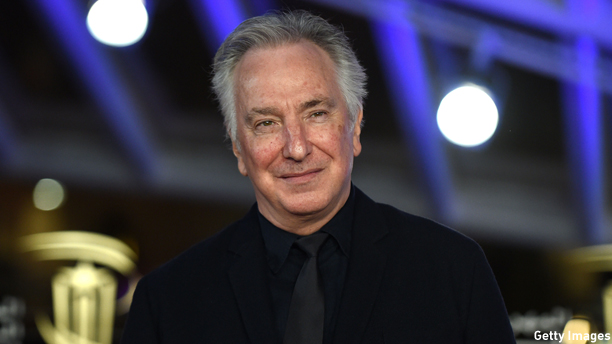 British actor Alan Rickman is a mainstay on our always growing list of Anglo fan favorites, and we're not shy to say we're fans too. We try to keep up with Rickman and report on his latest going-ons, which made us think, "Why are we always left wanting more?" It's hard to nail down why we're so drawn in by him; it's not just one trait, but we'll try and tidy it up with 10:
1. Rickman has a slow, methodical way of speaking that just makes everything he says sound thought-out and authoritative. One of the best examples of this is when he talk-sings directions in the below video opposite Scottish singer Sharleen Spiteri:
2. So, now you're left wanting more, right? We told you that happens. While Rickman spoke most of the lyrics in the above video, he has a strong singing voice that he's been hiding away. In the below clip, he busts out in a love song. Not to be thrown off, in the first few seconds he talk-sings again, but the good stuff starts at 1:23:
3. He's frank. You're like, "Noo, he's Alan." Well, in this case, we mean frank as in forthright. Rickman recently talked about his early days in Hollywood, admitting that he was close to passing up his breakthrough role as the German baddie Hans Gruber in Die Hard. He could've kept that in his vest, but was very honest about his naiveté, saying, "I didn't know anything about L.A. I didn't know anything about the film business. I'd never made a film before, but I was extremely cheap." He wasn't keen on doing an action film, but he followed his gut. His gut also told him that his character should wear a suit.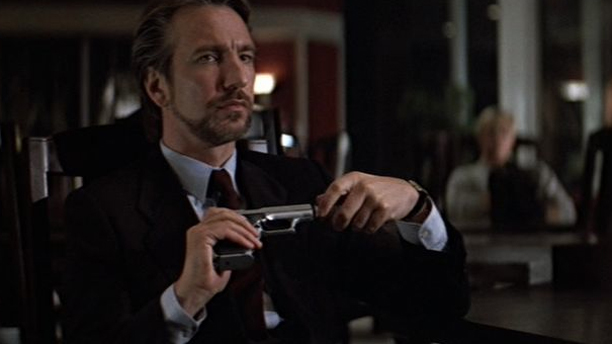 4. One might think Rickman is super serious, reading Chaucer between scenes, but … nope. He's actually playing pranks on fellow castmates like Harry Potter's Daniel Radcliffe. Radcliffe tells the story in his own words in the below clip, and lucky for us the tomfoolery was caught on film. We don't want to spoil it for you, so you can watch the prank unfold for yourself, but something to keep a lookout for is Rickman's expression, which is priceless as he tries to contain himself:
5. In addition to Rickman being forthright, he provides full transparency. Back in 2012, Rickman was shooting a scene at the all-glass Gherkin for his film Gambit. The scene called for Rickman to drop his robe and sit at a desk in the nude. The actor wasn't fazed by the possibility of onlookers. He was actually relieved to not have to wear an uncomfortable costume, telling the Evening Standard, "Sometimes you can get costumes you can't bear wearing. So it was a relief not to have to say, 'I don't like this costume'." Director Michael Hoffman applauded Rickman, saying, "He was very brave." It really just gives us a giggle, the thought of nearby office workers spotting a naked Rickman across the way. The Gambit trailer actually gives you a peek at the Gherkin scene with a strategically placed laptop:
6. He may not be topping any best-dressed lists, but the man can rock a cravat, and that's what counts in our book. We'll let the cravat say the rest: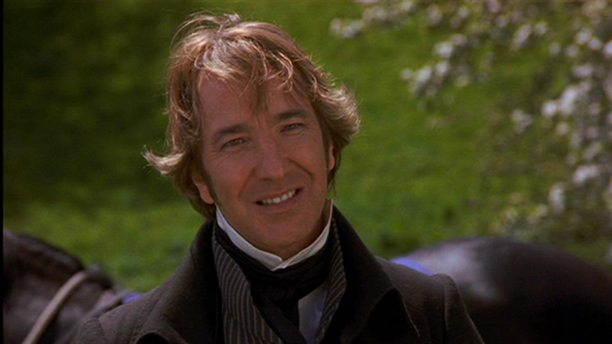 7. Rickman has conquered acting, and for some that'd be enough, but not our Rickman (notice he's "ours" now). In a September 2014 Anglo post we literally asked, "Where's Alan Rickman? What's Alan Rickman doing? We want more Alan Rickman," and we got our answer: he had been directing the feature-length film A Little Chaos starring himself and Kate Winslet. This wasn't his directorial debut, but it had been a minute since his 1997 film Winter Guest had premiered. The guy has discretion: He doesn't just hop on any project, telling Entertainment Weekly, "I can't direct anything unless when I read it, images start jumping off the page. It sort of demands your involvement in a way, like [the script] is saying, 'What about me?'" Kudos to you Alan Rickman, kudos. And if you're curious how the film turned out, here's the trailer:
8. He's not necessarily classically handsome, but we mean that in a good way. He has his own unique look—the tussled hair, long nose, and beaming smile—and he owns it. It really is a bonus, as there aren't a lot of Alan Rickman lookalikes walking around. But there are some cheeky actors who are keen on impersonating him like Benedict Cumberbatch and Tom Hiddleston. We're not saying they want to be like him, but maybe just talk like him? MTV caught up with Rickman, asking him what he thought about the impersonations, and his response is … so Rickman:
9. The man appreciates poetry. Rickman reads Shakespeare's "Sonnet 130" in YouTuber Hermione Rickman's fan-made video. We seem to keep coming back to Rickman's voice, but there's a reason for that, as heard in the below clip:
10. He's not afraid of commitment. It's nice when you meet a man who can get all the ladies, but doesn't. Rickman, to our surprise, wedded his ladylove in a hush-hush wedding. Rickman has been off the market for the past 50 years, living with his partner Rima Horton, an economist and politician, for 40 of them. They met when he was 19 and she was 18. But now it's official: they're hitched. The wedding took place in NYC three years ago, but it just came up nonchalantly when Rickman was talking to a German reporter about his new movie A Little Chaos. We thought there was a glow about him.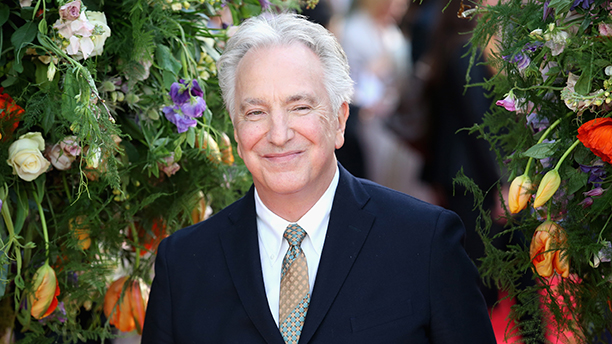 What do you love about Alan Rickman? 
See More:
Alan Rickman Set to Star in Supernatural Thriller 'The Limehouse Golem
Five Appalling Alan Rickman Oscar Snubs
Brit Binge Watching: Rickman and Hiddleston Films You Can View Online
Read More
Filed Under: