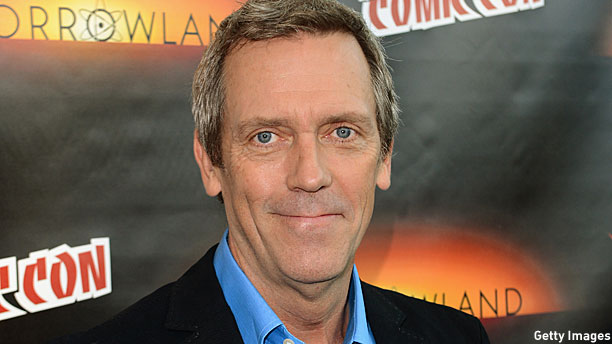 Hugh Laurie is the comedian who became an actor, the specialist in simpering ninnies that played a glowering heartthrob and the Oxbridge rower who tours the world playing the blues. He's also just about to appear alongside George Clooney in the sci-fi/fantasy romp Tomorrowland, so, now seems a perfect time to remind everyone else why he's adorable.
The Stage Fighting
In a recent documentary about their career, both Stephen Fry and Hugh himself—the comedic partnership that started this whole thing off—admitted to a particular excitement around Stephen biffing Hugh and the explosive way in which Hugh collapses upon being hit. It's partly Hugh's big eyes and open face, partly the puppet-with-cut-strings flail he does as he goes down, and it's a skill he has taken out of their skits and into other areas of his career, not least this exchange between Stephen as the Duke of Wellington and Hugh as the Prince Regent in the third series of Blackadder. There are a suspiciously large amount of pratfalls in House too.
The Sketch Comedy
After Blackadder, Hugh was best known to British TV viewers as one half of that double act with "m'colleague" Stephen Fry. Their intellectually rigorus (but exceptionally daft) brand of comedy celebrated the capricious influence of fellow Oxbridge comedy titans such as the Monty Python team and Peter Cook & Dudley Moore. This was an act of severely challenging timing on their part, launching into a series of light-spirited drawing room larks in a time of post-punk alternative comedy, which was more interested in street smarts, deranged cabaret and political diatribes. It's a measure of their skill at the larky side of things that they swiftly became household names.
Jeeves and Wooster
Next stop, a resurrection of the stories of P.G. Wodehouse that again placed a lot of emphasis on Hugh's ability to play a posh twit in a loveable fashion. His Bertie Wooster is a fool, a shallow ninny and a social gadfly that lives for passing trends, parties and avoiding all responsibility like the plague. Thankfully this is given a firm anchoring by Stephen's Jeeves, the implacable and impossibly capable valet.
The Singing
Actors who can sing are relatively common. Actors who can sing and accompany themselves on a variety of instruments, less so. Comedians who are also gifted actors who can sing and accompany themselves on a variety of instruments well enough to hold down a parallel career as a musician? We're well beyond hen's teeth territory now.
The One Where He Told Rachel Off
There was a giddy spell in 1998 where British stars started to appear in Friends thanks to Ross's (doomed) engagement to Emily and the wedding trip to London, and among strong performances from Jennifer Saunders, Tom Conti, Helen Baxendale and (ahem) Richard Branson, Hugh popped up as a British traveler stuck next to Rachel in mid crisis. Did he turn out to be a sympathetic ear, a balm for her troubled soul? He did not. And quite right too.
House
It's a source of some confusion to British people that Hugh Laurie, the silly, floppy comedian, should have become an international sex symbol and dramatic lead in one of the most popular TV series ever made. Not that anyone doubted his talent, it's more the brooding hotness thing. Where did that come from? Mind you, that character is not without precedent; Dr. House is essentially a British anti-hero with an American accent. He's Alan Rickman in Robin Hood: Prince of Thieves but with more prescription drugs and walking stick instead of a sword. And an American accent.
The Boogie-Woogie
Hugh has a deep love of 20th century American music, be that jazz, rhythm and blues, blues or country. And as he's a meticulous sort and a gifted musician, he can turn his hand to knocking out a boogie-woogie tune or two. Sometimes it's for fun: The finale of a whole season of A Bit of Fry and Laurie was devoted to Hugh playing cocktail jazz on a piano and making trumpet noises with his mouth while Stephen Fry mixed an actual cocktail. And sometimes it's with more serious intent. This example is both.
More Sketch Comedy
Speaking of unexpectedly British things that have turned up in the States, this skit from Saturday Night Live is remarkable for a couple of reasons. First, it sees Hugh back where he belongs, larking about with comedians. But secondly, Amy Poehler—THE Amy Poehler—is playing Yvette Fielding from Most Haunted. Most Haunted isn't even a widely-known show in the U.K.—Yvette is best remembered as a former presenter of the children's TV show Blue Peter—so it's kind of a shock to see it being parodied on SNL. It'd be like Dame Maggie Smith appearing as Barney the dinosaur (or one of the cast of Lizard Lick Towing) in a future episode of The Graham Norton Show.
Spice World: The Movie
Laugh if you will, but there are definitely people in the world now whose first experience of Hugh Laurie will have been this tiny fragment from the Spice Girls' first—let's face it, ONLY—movie. They'll have been thrilled at his overlarge moustache and Poirot accent or possibly waited patiently until Emma Bunton reappeared on the screen. In any case, we include this moment partly to record the fact that it happened for posterity. Who knows when anyone will watch Spice World again?
This Interview
The hardest thing about picking Hugh Laurie clips is picking which one to leave out, and even in this instance—in which Hugh and Craig Ferguson indulge in a battle of silly wits—there's a rival version which is every bit as good. And all the sketches from A Bit of Fry & Laurie, all the best moments from Blackadder and the skits from other British comedy shows like Alfresco, Friday Live and The Young Ones. Suffice to say this conversation—like this list—is clearly nowhere near long enough.
See more:
Tom Hiddleston and Hugh Laurie Tweet Mountain Snaps from 'The Night Manager'
WATCH: Hugh Laurie and George Clooney in 'Tomorrowland'
Are Stephen Fry and Hugh Laurie Getting The Band Back Together?
Hugh Laurie: L'Oréal's New Leading Man
Read More
Filed Under: