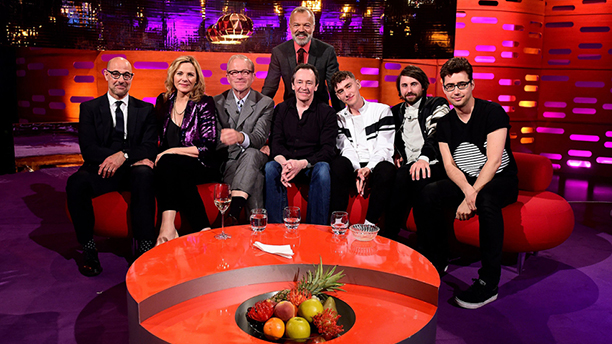 Graham Norton returns with season 17 of The Graham Norton Show, and this Saturday (April 18) the couch is packed.
Actors Stanley Tucci (The Hunger Games) and Kim Cattrall (Sex and the City), both London residents, are seen holding down a corner of the couch. You may know Cattrall as the sexed-up Samantha Jones or from earlier roles like Mannequin, but did you know she is British?
Cattrall was born in Liverpool, England, and while still in an infant, she moved to British Columbia, Canada, with her English parents. She spent time in the U.K. as a youth visiting her grandmother regularly, and in 2009 she went back to England with the BBC show Who Do You Think You Are? to find out more about her British history.
As we move down the couch, from left to right, we have British comedians Harry Enfield and Paul Whitehouse, who are set to kickoff a 2015 tour in October. Joining the duo are the London-based electronic music group Years & Years, which is made up of bandmates Olly Alexander, Mikey Goldsworthy, and Emre Turkmen. These lads may need to be added to our list of celebrities with quintessentially British names? Alas, we digress.
Enfield and Whitehouse have been collaborating for 35 years, first performing together in the 1980s British series Saturday Live. They've pursued separate projects like Enfield starring in Skins as Jim Stonem, and the comedy Men Behaving Badly as Dermot; and Whitehouse taking on various roles in Bellamy's People, and the TV miniseries The Life of Rock with Brian Pern as Pat Quid, but they seem to always come back around to join forces. Just recently the two teamed up for the 2014 TV movie Harry & Paul's Story of the 2's.
Here's a look at the duo in their earlier days:
And the two playing off of each other in the upcoming episode of Graham Norton:
Years & Years has been together for five years, forming in 2010 when Goldsworthy migrated from Australia to the U.K. And they connected in a very modern way: online. Goldsworthy met Turkmen in a chat room where they talked about music and bonded over Radiohead. The two met up, started a band, and recruited friend-of-a-friend Alexander, whom you may recognize from The Riot Club and his appearance in Skins, to front the group. Apparently, Goldsworthy discovered Alexander could sing when overhearing him singing in the shower.
The way the guys met sounds so happenstance that they could've easily missed each other, but we're glad they didn't or we wouldn't get to watch their video below starring Anglo favorite Ben Whishaw dancing his heart out:
That's a lot to take in all at once, but now that you're up to speed, we bet you can't wait to find out more on this week's episode of Graham Norton on BBC AMERICA at 10/9c. 
See More:
Who's the Brit on Graham Norton's Couch: Meet Olly Murs
Who Are the Brits on Graham Norton's Couch: Meet Julie Walters and Take That
Who's the Brit on Graham Norton's Couch: Meet Timothy Spall
Read More
Filed Under: