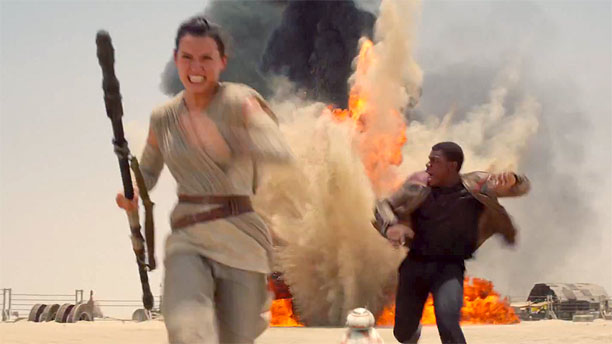 Those stormtrooper outfits must be murder in a desert environment.
Yesterday the second teaser for Star Wars: The Force Awakens came out, and as it features a genuinely thrilling moment for hardcore fans (which I won't spoil in case you haven't seen it yet, but do watch it now, so we can talk), it essentially took over social media for a bit.
Once you get past the "OMG!" stuff with characters of old, there's a chance to examine the various other scenes and scenarios hinted at within this very short trailer, and one thought keeps popping up above all others. Why is John Boyega—British acting star, let us not forget—always puffed out, sweaty and shocked?
Look at the picture at the top, that's the first time we see him, running away from some TIE fighters. This is genuinely good reason to look both clammy and surprised. This is especially true considering that it's clearly a warm day where they are and no one appears to be ready for the attack. There's fire and explosions to the left and right, and he's running, so being puffed out, sweaty and shocked is legitimate.
But this state seems to last the entire length of the film, if his other snippets are anything to go by. Look at his next appearance, he's puffed out and sweaty in a stormtrooper helmet (with a bloody handprint on it), and oh look, he's shocked again:
And now here he is lying down, puffed out and sweaty and shocked and about to shake someone's cool and un-moist hand.
And look, here's John in the first teaser trailer and guess what? Puffed out and sweaty. And shocked: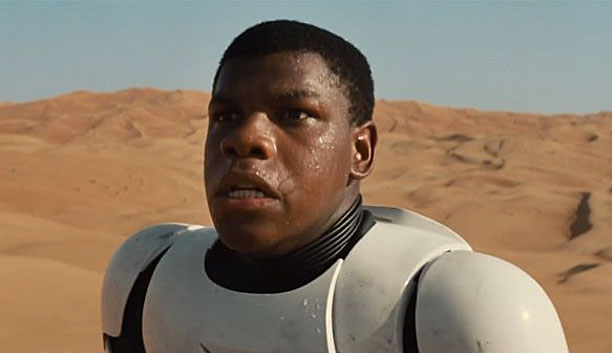 Fingers crossed the next movie takes everyone back to Hoth otherwise John's going to pass out at this rate.
See more:
WATCH: The Three New British Stars Of 'Star Wars: Episode VII'
It's Not Benedict's Voice in the 'Star Wars' Trailer, It's Andy Serkis
Four Newcomers Added to 'Torchwood: Miracle Day' Cast
Felicity Jones to Join 'Star Wars' Spin-Off?
Read More
Filed Under: