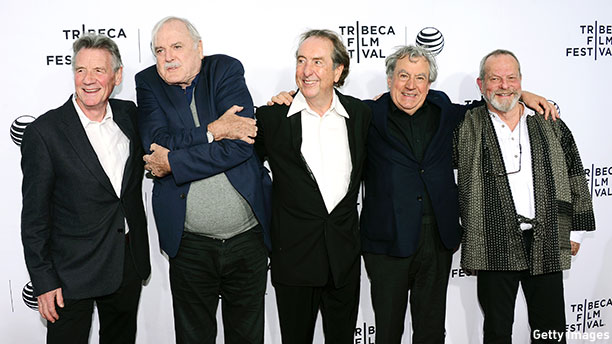 Looking older but as sharp-witted and energetic as ever, the five living members of Britain's beloved Monty Python were the big attraction at the Tribeca Film Festival on Friday night (April 24) where they attended a special 40th anniversary screening of Monty Python and the Holy Grail.
Outside the Beacon Theatre, they walked down the red carpet recalling the chaos of making the film, some of its best known lines and discussing how there really isn't anything that matches Monty Python nowadays in comedy.
John Cleese complained constantly of being cold and huddled in a squatting position next to his colleagues. But he was happy to reaffirm his view first made on BBC AMERICA's The Graham Norton Show that Taylor Swift had a cat who "look deformed." That remark that reportedly left Swift insulted, but Cleese maintains that was an invention of the British press and that he and the singer had parted on good terms.
Watch the interview here:
Here's the full clip with Taylor Swift that Cleese references from The Graham Norton Show:
See more:
PHOTOS: Michael Palin, Terry Jones, Eric Idle, John Cleese and Terry Gilliam Reunite for 'Monty Python Live' Rehearsal
WATCH: Stephen Hawking Sings Monty Python
'Monty Python' Live Show Under Investigation for… Lack of Swearing?
Read More
Filed Under: