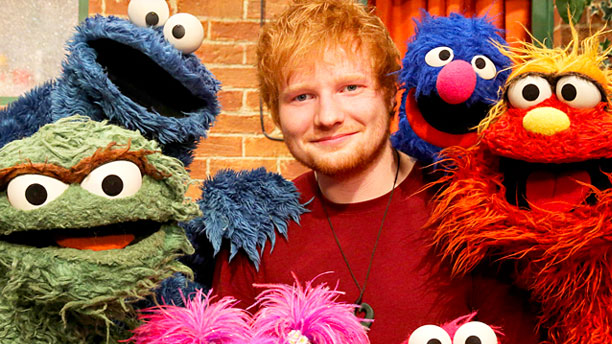 Muppet guest appearances are a strange affair. Some people come away from the experience looking pinker and more hairless and essentially human than they did before. For some people, as Ed Sheeran proved yesterday, the experience serves to highlight the muppetiest aspects of their physical appearance.
Suddenly the eyes look a little more boggly, the face a little rounder, and in a strange trick of the eyes, the mouth appears to be animated from within, in a way that hadn't been apparent previously.
Or maybe it's just his jumper. Anyway, here's Ed performing a song about the difference between home life and school life, with Elmo, Grover and the Cookie Monster.
Ed's appearance was actually filmed a while ago—back in November 2013—as this behind the scenes clip serves to prove:
And of course, it's easy to see where the inspiration for this video came from:
Although that muppet is perhaps a little too cool for school.
See more:
Ed Sheeran's First Driving Lesson, with the Stig
WATCH: Ed Sheeran and Wayne Rooney Perform 'Lego House' at Pub
Rupert Grint and Ed Sheeran: Twingers
25 Great British Songs You Should Have Heard in 2014
Read More
Filed Under: