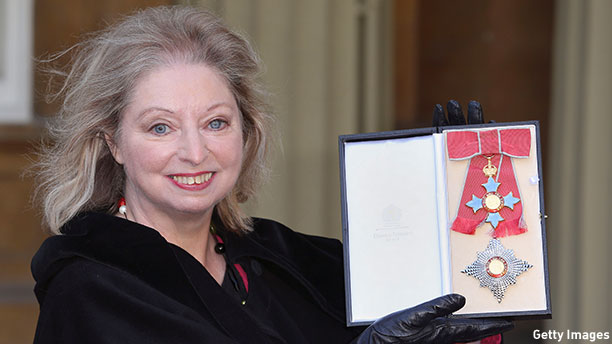 A mammoth five-and-a-half-hour British production, the Royal Shakespeare Company's Wolf Hall, set in the court of Henry VIII, has arrived on Broadway to some glowing reviews and much excitement from Dame Hilary Mantel, the celebrated British author whose writings inspired the work.
"It feels fabulous, we have high hopes," said Mantel standing outside the Winter Garden Theatre on Broadway where Wolf Hall is playing.
The production arrives after great success in the U.K. and Dame Hilary has found that Broadway audiences haven't missed any of British references.
She says: "Don't underestimate our New York audiences, they are slick, they're right there with the narrative."
At the heart of Wolf Hall is the story of Thomas Cromwell, who rose to become Henry VIII's right-hand man and a ruthless political operative.
But in Dame Hilary's assessment of Cromwell, there's definitely a trace of admiration.
"He's ruthless, he's very clever, he's very ambitious, very smart, but he's not lacking in heart. He's audacious, he's a creative politician and there aren't too many of them around," she says.
April heralds what has become a season of Wolf Hall in the U.S. In addition to the Broadway production, there's also a six-part, much-praised BBC Wolf Hall adaptation running on PBS with Mark Rylance as Thomas Cromwell and Damian Lewis as Henry VIII. Watch our interview with Dame Hilary as she discusses America's current fascination with her stories:
See more:
10 Little-Known Facts About the Real Wolf Hall
15 TV Shows We're Looking Forward to in 2015
WATCH: Damian Lewis as Henry VIII in 'Wolf Hall' Trailer
Read More
Filed Under: