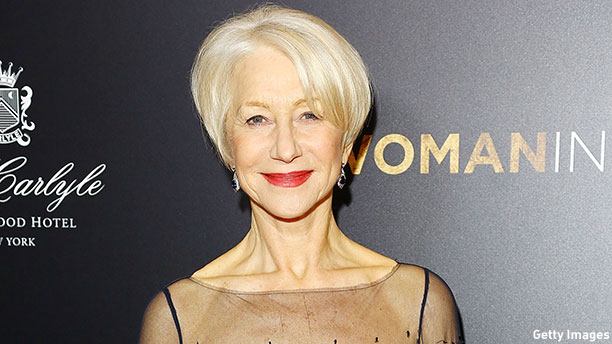 In New York, Dame Helen Mirren is currently basking in significant praise for two roles, playing Her Majesty The Queen in The Audience on Broadway and on the big screen as a Holocaust survivor who's trying to get restitution in the drama Woman in Gold.
"There's really no comparison whatsoever, honestly," Dame Helen says speaking to reporters about the roles this week at the Museum of Modern Art at the film's premiere (March 30).
In the film, she plays Maria Altmann, whose Austrian Jewish family in Vienna had owned several artworks that were plundered by the Nazis. One painting of her aunt, Portrait of Adel Bloch-Bauer I by artist Gustav Klimt, was a prized possession. After the Nazis took it, the portrait hung in Belvedere Gallery in Vienna for decades. But Altmann, who had settled in Los Angeles, decided she wanted it back and, with the help of a young lawyer, took her battle all the way to the U.S. Supreme Court. She won. In 2006, it was returned to her and today it hangs in the Neue Gallery in New York. Altman died in 2011.
Dame Helen says that the painting was very important for Altmann. "I think it was the symbol of what had been taken away from her, in the sense of not financial [matters], but in the sense of her memories, her family had been stolen, taken from her. And I think that painting represented her life in Vienna, this incredible sophisticated, elegant life."
The film opens in cinemas today and the exhibition Gustav Klimt and Adele Bloch-Bauer: The Woman in Gold can be seen at the Neue Galerie in New York from April 2 through September 7, 2015.
See more:
WATCH: Helen Mirren Can't Turn Down Helium Balloon on 'The Tonight Show'
Brit-Spotting: Dame Helen Mirren Rides the NYC Subway in Style
WATCH: Dame Helen Mirren: 'Haughty and Vulnerable Are What I'm Good At'
Read More
Filed Under: