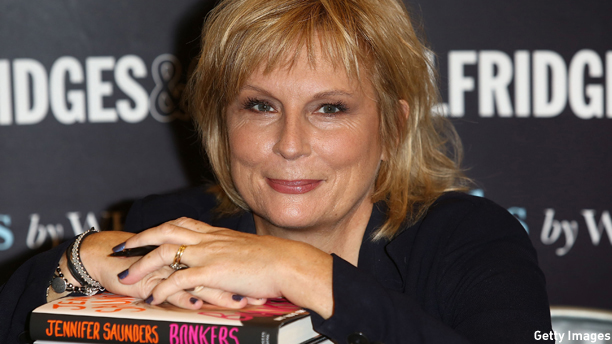 We've been talking about the Absolutely Fabulous series making it to the big screen for a while now, and plans seem to be falling into place.
Comedienne and co-creator Jennifer Saunders first broke the news that there'd be more Ab Fab on the way in October 2013, telling a U.K. radio station, "It's in my head. It's in my head to do it now. As where as before, it was in my head to not do it."
A few months later she bit the bullet, confirming a movie was on the way when sat on the couch talking to Jonathan Ross. While chatting with Ross on his talk show, Saunders admitted to being a procrastinator, which Ab Fab co-creator Dawn French must have known too, because French motivated her to get writing with a $160,000 wager.
Saunders completed the script by the end of 2014, and she was off the hook.
Fast-forward to today (April 29) and Saunders is in the hot seat again, talking to the ladies of Loose Women, a U.K. chat show.
Saunders was asked point-blankly if there is going to be an Ab Fab movie, with her replying, "Yes, there is!"
Yes, yes, we know, you may be thinking, "We've been through this before," but Saunders has some fresh news.
She went on to explain that she's tied up through May 2015, but she expects to start filming in the fall of this year.
The crowed cheered, as did we when watching this clip.
It's been 20-some years since the hit show first aired, we have no problem waiting a bit longer.
Do you have a favorite Ab Fab character? 
See More:
'Ab Fab' 23 Years Later: Where Are They Now?
Jennifer Saunders: 'The 'Ab Fab' Movie IS Happening
How to Dress Like the 'Ab Fab' Ladies
Read More
Filed Under: