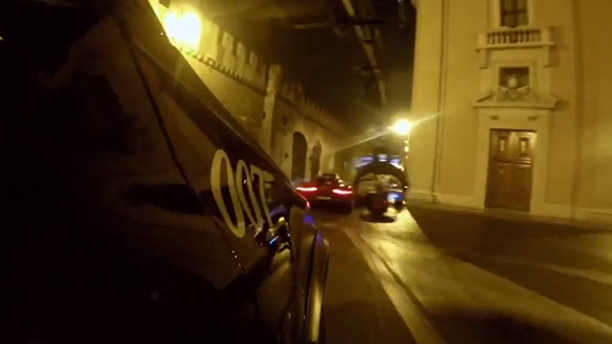 Spectre director Sam Mendes talks us through the on-set one-on-one battle between the Aston Martin DB10 and Jaguar C-X75 in the James Bond 007 video blog.
Filming called for eight Aston Martins specially built for the production. In addition to the tailor-made luxury cars, the Spectre crew commissioned stunt Aston Martins, which are "fully caged up," according to Chris Corbould, special effects supervisor.
Corbould explains in the video, "The stunt drivers have been putting them through their paces."
Mendes and the tech team talk about the cars as if they are characters in the film. We suppose they are in their own right: James Bond wouldn't get very far on foot. Speaking of characters, we meet Mr. Hinx, played by David Bautista, who refers to himself as the hero of the film and James Bond as his "evil nemesis." Wait a minute?
You can check out the fast-paced cat and mouse chase through Rome in the below clip:
What do you think of the metal-on-metal action?
See More:
Daniel Craig on Spoilers and the 'Spectre' Teaser Trailer
First Look: Daniel Craig as James Bond in 'Spectre' Poster
Brit Binge Watching: James Bond Stars Not Playing 007
Read More
Filed Under: