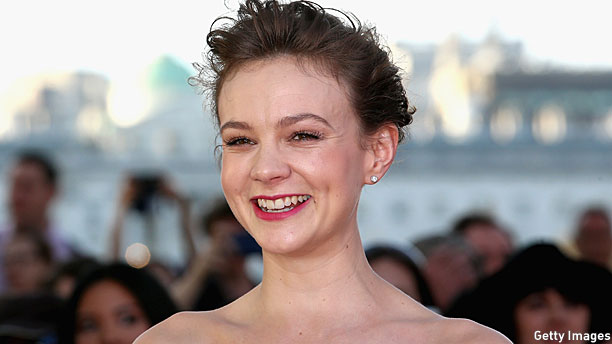 It is officially ALL GO in the Carey Mulligan camp right now. Last night (April 15) was the premiere of Far From the Madding Crowd, in which she stars as Bathsheba Everdene, battling off the romantic attentions of Michael Sheen, Matthias Schoenaerts and Tom Sturridge.
Not that it was all romance and glamor, particularly when she had to film a scene in which Bathesheba walks into a sheep bath, in as she told the Mirror:
"That was so much fun, although slightly disgusting by the end of the day. The sheep were doing their business in the water.
"The boys whinged constantly but they were wearing wetsuits under their costumes – I was wearing no wetsuit, so I was basically swimming in sheep s*** all day, which was a joy."
But that wasn't the only fresh Mulligan moment from yesterday. The first teaser for Suffragette was released. It's Sarah Gavron (Brick Lane) movie based on an Abi Morgan (The Iron Lady, The Hour) script retelling the story of the campaign to secure women the right to vote in the early years of the 20th century, and it boasts a particularly strong cast.
Carey, who plays the film's central character Maud, is joined by Meryl Streep—who plays Emmeline Pankhurst—as well as Helena Bonham Carter, Ben Whishaw, Romola Garai, Anne-Marie Dugg and Brendan Gleeson.
Far From The Madding Crowd is released on May 1.
Suffragette is released on October 23.
See more:
Personality Quiz: Which British Heroine Are You?
Carey Mulligan on Playing Mean in 'Inside Llewyn Davis,' Working with Justin Timberlake
Carey Mulligan as a Young Hillary Rodham Clinton
Carey Mulligan: 'I'm VERY Prudish'
Read More
Filed Under: