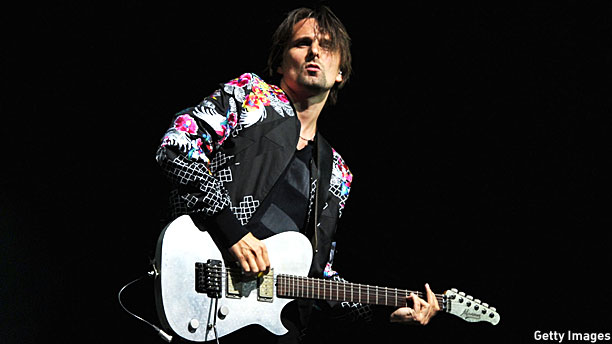 So far in 2015 we've already had new albums from returning British talents like Noel Gallagher's High Flying Birds, Laura Marling, Belle and Sebastian and Blur, but how are the next few months shaping up in terms of British pop? What records are Anglophiles going to need to keep an ear out for, ready for those beach compilations and barbecue playlists? Here's a rough guide to some key releases:
Note: don't feel under pressure to make beach compilations and/or barbecue playlists. The music on this list will (probably) work just as well as the soundtrack to a drizzly bus stop, should the weather in your location prove to be as British as the music itself.
Mumford and Sons
The third Mumfords album Wilder Mind (out May 4) is going to rather dominate conversations around British music for a short while, if only because they've put aside the banjos and the hoedowns in favour of moody alt-rock. They said in a recent NME interview that this is just a return to the instruments they first learned on—Marcus Mumford sees himself as a drummer who writes songs, not a singer-songwriter who can drum—and critics say they're just living out a cliched rock 'n' roll fantasy now that they're popular, and everyone else is dancing to their old beat. Taking into account personal preferences, the truth is probably a pinch of one and a smidgeon of the other.
Florence + the Machine
Florence's third album How Big, How Blue, How Beautiful is released on June 2 in the U.S. Ironically, given that Mumford and Sons opted not to work with Marcus Dravs—the producer behind their first two albums—Florence has booked him instead, although more for his previous work on the Björk album Homogenic than because of a sudden fondness for the banjo. The album also features big brass arrangements by Will Gregory of Goldfrapp, something Florence is particularly with, as she told Rolling Stone: "The trumpets at the end of [the album's title track] — that's what love feels like to me: an endless brass section that goes off into space. And it takes you with it. You're so up there. And that's what music feels like to me. You want it just to pour out endlessly, and it's the most amazing feeling."
Muse
Should you wish to add fuel to the conspiracy theory/doomed romantic pyre of Muse's, erm, muse, their new album Drones is out on June 8. It was co-produced by the band and Robert "Mutt" Lange, the meticulous producer who brought you AC/DC's Highway to Hell, Def Leppard's Hysteria, and Shania Twain's Come On Over. In a recent Q&A on Twitter, Matt Bellamy explained the album's title as a way of directly addressing his fears about loss of humanity in the modern world: "To me, 'Drones' are metaphorical psychopaths which enable psychopathic behaviour with no recourse. The world is run by Drones utilizing Drones to turn us all into Drones. This album explores the journey of a human, from their abandonment and loss of hope, to their indoctrination by the system to be a human drone, to their eventual defection from their oppressors."
See? And you thought it would be heavy going.
Hot Chip
Meanwhile, at the cerebral electronica end of things, Hot Chip spent an inspired week writing their sixth studio album Why Make Sense?, so's not to overthink it. And then they recorded it with minimal arrangements, so's not to be too cluttered. But it's not slapdash or lazy, and, in fact, the band have prepared a special treat for people buying physical formats; the album is being printed using a technique that will render the cover in one of 501 different color varieties. Which is as near to individual as you can get (providing you don't know more than 500 other Hot Chip fans).
The Vaccines
If you're unfamiliar with the previous work of this particular band, they sit somewhere between the Strokes, Pulp and the echo from a concrete underpass, with droll English lyrics set to '60s Brill Building melodies and recorded in a skip. English Graffiti is their third album, and the band are doing what all bands do for their third album, promising a radical new sonic direction and hoping a delicate pop makeover will suffice. Unlike Muse, the album doesn't really have a story, unless making "a record that was important in 2015 and sounded like 2015" is a story. And if it is, the twist ending needs work.
Everything Everything
The Everythingthings are also on their third album, which will be called Get To Heaven and released on June 15. But unlike the Vaccines, their formula was already one of inventiveness and cussed individuality, so there's no sonic footprint to restamp into the ground. The plan this time is to make an album that is as intellectually fierce as their second Arc, but as accessible and direct (within limits) as their first Man Alive. Which means more songs that read like a semiotics essay cut into ribbons and sound like XTC doing something clever with the songs of Sparks and Talking Heads.
Paul Weller
The thing you have to know about Paul Weller is that he likes to keep things fresh. Not quite as deliberately willful as David Bowie in his constant need to avoid what he did mere moments beforehand, but he has spent much of the last decade trying not to be the guy who made those leather handbag-ish rock albums in the 1990s. Saturn's Pattern, his 11th solo album, is out on May 18th and promises to be his least Paul Wellerish album to date—lead song "Long Time" is a total space-rock groove, for example—while never escaping the gravitational pull from the molten core of his songwriting talent.
Wolf Alice
In the easily excited world of British indie rock there is no band more hotly tipped than Wolf Alice right now. They're young and rowdy, a bit feral and fit right into the 2015 mini grunge revival while still being chippy enough to claim that they don't. In any case, they have a rabid fan base, and they have a debut album called My Love Is Cool coming out on June 22. It's going to be bratty and bitey and howlingly good fun.
Years & Years
British electropop is a precious and euphoric thing, with a backbone of pure melancholia. Years & Years are already dominating the sound of 2015, having reached the top of the singles chart with "King" in March, two months after winning the BBC's Sound of 2015 poll. And their debut album Communion comes out on June 22. It's been years in the making, with the three band members Olly Alexander, Mikey Goldsworthy and Emre Turkmen having been beavering away on EP releases until now. Expect to dance yourself to tears, or sob yourself happy.
Which just leaves room to wonder about the other big names who've been quiet for a while. Where, for example, is Adele? Are Radiohead about to drop something summery and suitable for pool parties? Don't scoff. That would be the ultimate reinvention of their core dynamic and as such, the perfect next move.
See more:
British Summer TV Preview: 10 Shows to Watch
10 British Actors Trying Their Hands at Pop Music
5 British Music Festivals to Attend if Glastonbury's Not Your Thing
Five Great British Musical Treats For Bastille Fans
Who's the Next James Blake? 8 British Musicians Who Are Bubbling Up
Read More
Filed Under: