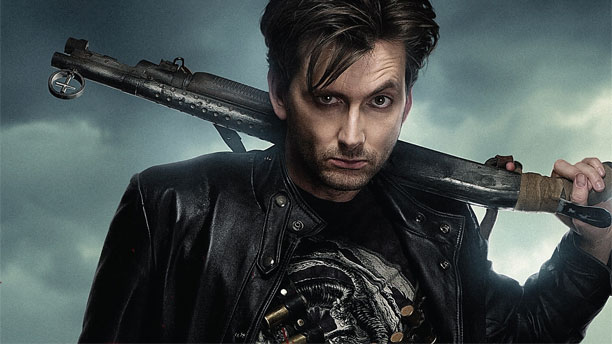 Matt Smith's movie career is just taking off, having made the leap from a deleted scene in In Bruges to a key role in Lost River and appearances lined up in both Terminator Genisys and Pride and Prejudice and Zombies.
But he's not the first Doctor to have a successful stab at the silver screen. Here is a collection of the most notable movie role of each of the actors who have played the Doctor, some of which are nearly as good as the Doctor himself.
Note: we're not including Peter Cushing, ironically, as his appearances as the Doctor only happened in the movies, and his most notable movie role outside of that is probably Star Wars. We can skip him:
William Hartnell: Brighton Rock
William Hartnell is by some distance the most experienced movie actor of all the Doctors to date, as he had made his career in British films long before Doctor Who was even an idea. He specialized in playing a particularly nasty kind of authority figure. He was the angry sergeant-major, the crotchety police superintendent, or in this 1947 adaptation of Graham Greene's novel about guilt and recrimination, the hawk-faced gang leader Dallow. This one punch should tell you all you need to know.
Patrick Troughton: The Omen
It would be entirely wrong to explain what happens to Patrick Troughton's character Father Brennan in the famously satanic 1976 horror film The Omen, or pop a clip here that shows the moment in question. Suffice to say he does not end the film in the same state as he begins it. And people tend to remember his bit quite well.
Jon Pertwee: Carry On Cowboy
That's Jon at the very beginning of this trailer, failing to get on his horse properly. This 1965 performance is one of a huge run of comedy cameos he gave to British movies during the heyday of the British Film Industry. If you've only ever seen him playing the debonair and gentlemanly Third Doctor, Jon's comic talents could come as a surprise. And if you're unfamiliar with the bawdy, rapacious humor of the Carry On movies (which have also played host to William Hartnell in their time), be prepared for a trip back to less politically aware times. Mind you, the trailer should be enough of a clue. Historical accuracy was never their strong suit.
Tom Baker: The Golden Voyage of Sinbad
Tom wasn't the first former Doctor to make an appearance in one of Ray Harryhausen's stop-motion monster epics. Patrick Troughton makes an appearance as blind Phineas in 1963's Jason and the Argonauts. Ten years later, his replacement's replacement can be seen as a character called Koura, bringing a statue to life in one of three movies devoted to the adventures of Sinbad.
Peter Davison: Black Beauty
Peter's movie resume is less well-stocked with notable moments than the one concerning all of his many TV jobs, but he did get to play Squire Gordon in a 1994 adaptation of Anna Sewell's children's classic Black Beauty (which is, as any fool knows, the original War Horse, only without all the war).
Colin Baker: The Harpist
The pickings are, if anything, even slimmer for Colin, chiefly because the bulk of his career has been spent in the theater rather than in front of movie cameras. However, should you need to see him in a movie setting, he did appear in the 1999 movie The Harpist, concerning a beautiful stranger who plays the harp and brings trouble in her wake.
Sylvester McCoy: The Hobbit Trilogy
It's like a perfect combination: a Doctor Who-mad director and the Seventh Doctor, together at last! And actually, Sylvester's unique skillset as a clown and a professional bumbler has been put to great use as Radagast the Brown in the trilogy that started in 2012. A slightly less formidable wizard than Saruman or Gandalf, but what that man can't do with a hedgehog isn't worth doing.
Paul McGann: Withnail & I
Not recommended for fans of not swearing, not drinking and films that show people getting long famously, 1987's Withnail and I is one of the best British films ever made. And it made an overnight star of Richard E. Grant, who is famously teetotal, so he had to dig pretty deep (and get very drunk just once) to get into character as Withnail. Paul's job is to plays the eponymous I, the narrator/witness to all the lunacy.
John Hurt: The Elephant Man
Picking just one amazing John Hurt movie performance is a tough gig. He's been in almost all of them, and he's usually very good. That said, you can't go past 1980's The Elephant Man as a story, a performance, a special effect or a heartbreaking experience. There are many, many John Hurt movies worthy of a second place spot, but this is the one.
Christopher Eccleston: Jude
Not just a retelling of the Thomas Hardy novel Jude The Obscure, also starring Kate Winslet, but a chance for two future Doctors to meet nearly 10 years before they would set foot inside the TARDIS. That's not the only reason to watch the 1996 film, of course, which is one of Michael Winterbottom's finest. But as pre-Whovian meetings of significance go, it's up there with the moment Matt Smith made friends with Billie Piper in Masterpiece Theater's The Ruby in the Smoke.
David Tennant: Fright Night
In this 2011 film, David plays the vampire slayer Peter Vincent as as decadent rock star—Russell Brand meets Jim Morrison—but with the voice of the Tenth Doctor. Which didn't feel terrifically significant at the time, as he'd only just stopped being the Tenth Doctor, but has become more so since his more recent big roles have tended to rely more on his natural Scottish accent. It's a great performance either way.
Matt Smith: Bert & Dickie
It's looking as if Matt's greatest cinematic adventures are ahead of him in the very near future, but that's no reason to overlook 2012's Going For Gold: The '48 Games (known in the U.K. as Bert & Dickie). It's the story of Dickie Burnell and Bert Bushnell's rowing achievements in the double sculls at the 1948 Olympic Games.
Peter Capaldi: Local Hero
Yesyesyes Paddington is a wonderful movie, and Peter plays Mr. Curry with an admirable contempt and oiliness towards Nicole Kidman. But let's go back a little further. Way back when he was a young man, Peter was in another of British cinema's greatest movies: 1983's mighty Local Hero. It's about a battle between commerce and community, between American swish and Scottish grit, and Peter's the callow youth in the middle of it all.
See more:
Life Outside The TARDIS: David Tennant (Part 1)
Life Outside The TARDIS: Karen Gillan
Life Outside The TARDIS: Alex Kingston
Life Outside The TARDIS: Elisabeth Sladen
Read More
Filed Under: