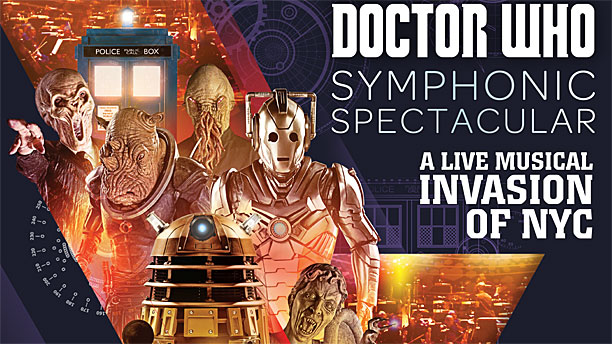 Sonic batons at the ready: BBC Worldwide North America has announced that they will be bringing the Doctor Who Symphonic Spectacular to New York.
The live musical event, which premiered in Australia and will be touring the U.K. during May, will take place at the Barclays Center in Brooklyn, New York on Wednesday, October 7, 2015.
Peter Davison is stepping back from his duties as host, so Doctor Who's very own Missy, Michelle Gomez, will be the master of ceremonies. Or should that be mistress?
https://www.youtube.com/watch?v=GQbcXtUwUXA
Michelle said: "I was a big fan of Doctor Who before I joined the cast, and I love Murray Gold's powerful and emotional soundtracks for the series.
"I'm so excited to be presenting the first-ever American performances, and to be doing this in the city that has become my home. I can't wait 'til this fall to see how the amazing U.S. audience reacts to the show being staged in the Big Apple. I'm honored to be a part of it."
The show will feature over 100 musicians and singers following the lead of conductor Ben Foster (The Theory of Everything) and will feature Gold's award-winning music. There will also be appearances from some of the Doctor's greatest foes, including the Daleks, Cybermen, Judoon, Whispermen, and more.
Tickets go on general sale at 10 am Friday, May 8, 2015, but check in with us on Tuesday to get access to the pre-sale link in our 'Doctor Who's Day Roundup.
The pre-sale will open Wednesday, May 6, 2015 at noon. For more information, go to www.doctorwhosymphonicspectacular.com
Here's the poster in full…
See more:
'Doctor Who's Day Roundup: The Second Season Theorem
10 'Game of Thrones' Stars Who Have Appeared on 'Doctor Who'
Steven Moffat: "Michelle Gomez was Such a Hit"
'Doctor Who' Cosplay: How to Dress Like Missy
Read More
Filed Under: