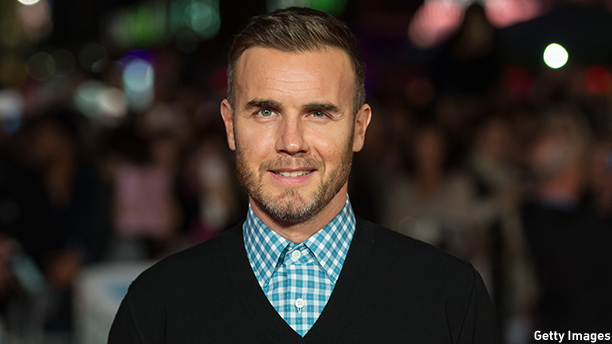 One of the original boybanders from the '90s, Gary Barlow of Take That, has been feeling charitable these days, popping up at unsuspecting newlyweds' wedding receptions to perform a song.
If you're not that familiar with Barlow, he was a founding member of Take That with Robbie Williams. Barlow went off on his own to pursue a solo career, but it wasn't what he expected, leaving him the odd man out.
In the documentary When Corden Met Barlow, James Corden spends a few days with the musician to talk about his musical career coming to a halt, the dark times, and how Barlow got back on his feet, once again becoming a beloved singing sensation. More recently Barlow is known for being a judge on seasons eight through ten of The X Factor, and he was awarded an OBE by Queen Elizabeth II in 2012.
While Barlow believes the past is the past as said in the documentary, he's very appreciative of getting a second chance, and he's particularly grateful to his fans.
And what better way to acknowledge their loyalty: oh, to turn up at their weddings unannounced.
Barlow took to his Twitter feed in January 2015 making this announcement:
In 2015 I want to sing at 3 weddings

— Gary Barlow (@GaryBarlow) January 3, 2015
As you can expect, the wedding invites came flooding in:
Well the good news is there's lots of weddings !!!!!! 😉

— Gary Barlow (@GaryBarlow) January 3, 2015
Just this week Barlow made a surprise appearance at a couples' wedding in Berkshire, England, which you can check out below:
https://www.youtube.com/watch?v=LnVbKiil_u8
Why is Barlow so keen on weddings? Two years ago a bride's friend started a #getgary2louswedding Twitter campaign, and it worked:
It may be becoming a trend. Singer Ed Sheeran recently surprised a couple in Australia who were going through a rough time:
You can follow Gary Barlow and his wedding-hopping via his Twitter account.
Which British singer would you like to crash your wedding?
See More:
What Americans Can Learn From British-Style Weddings
British/American Couple Create Magical 'Harry Potter' Wedding
How to Pretend You're British for a Day in NYC
Read More
Filed Under: