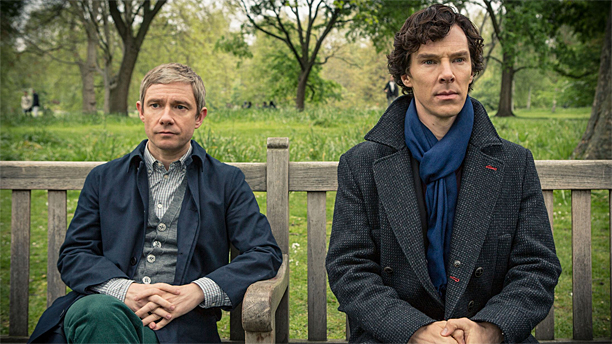 There's an interesting little interview with Steven Moffat on BBC Newsbeat, in which he explains a little about what it is like running two of the most highly regarded TV shows on the planet. And the key detail that emerges from the conversation is that he, as show runner, takes the time to pitch a new season's ideas to the lead actors, in order to secure their services.
He explained that part of the problem, particularly where Sherlock is concerned, is the success of Benedict Cumberbatch and Martin Freeman's respective careers, which makes them hard to pin down: "They don't need Sherlock anymore. So we have to persuade them to do it – which is fair enough."
Not that this means anyone has to be dragged back to Baker Street. "They are very serious about it, they do love it very much," he said, "I didn't think we actually thought we'd get a fourth series out of them."
Newsbeat then asked if this also applied to a more involved show like Doctor Who, and it turns out it does: "You still have to pitch it. It's not unreasonable. I still sit with Matt Smith every time and Peter Capaldi and say – this is what we're going to do.
"They would like to know that we've got another bunch of stories that they would like to do. That's a fair question."
And the whole thing ends with the question every nervous Sherlock fan wants a constant answer to. Once Season Four is completed, is that it?
"Truthfully not yet, I don't think… but then I'm an optimist."
See more:
Steven Moffat: "I Write Because I Make Up Stories"
Steven Moffat Confirms 'Sherlock' Special is 'Victorian'
Steven Moffat on 'Sherlock': "Our Plan is Devastating"
Steven Moffat: "Michelle Gomez was Such a Hit"
Read More
Filed Under: