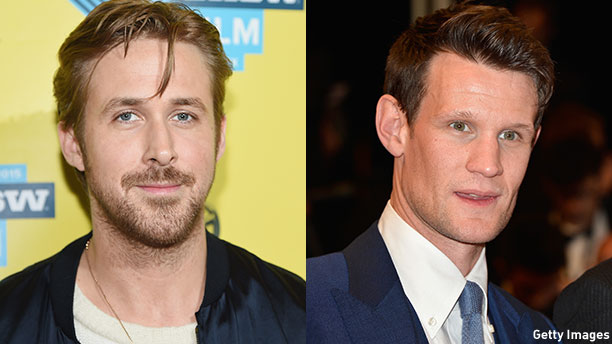 Hollywood knows what's up: Doctor Who actors have skills. Who alum Karen Gillan has admitted that casting directors' knowledge of the show has helped her lock in roles. Now actor/heartthrob-turned-filmmaker Ryan Gosling has revealed that watching Doctor Who inspired him to cast Matt Smith in his directorial debut Lost River, the Radio Times reports.
"One day I was watching TV. I heard Matt Smith's voice coming at me," Gosling said at a London Q&A following a screening of Lost River. "It was Doctor Who, and there was an episode where he was in a car screaming at these aliens and telling them where to go. Like a boss. Just telling all these spaceships what was what.
"As an actor I know that's pretty hard to do, because I'm pretty sure those spaceships weren't there. I thought, 'Who is this guy?'"
He added: "There's no one like him. He's like one of those actors from the '70s, just themselves and nobody else. I said, 'I have to work with that guy.' So I tracked him down."
Set in a surreal, dilapidated city (it was shot in Detroit), Lost River follows a struggling single mother (Christina Hendricks) and her son (Iain De Caestecker). Smith plays a baddie appropriately named Bully, who terrorizes the young man.
When Smith auditioned for Gosling, the pair bonded over their shared love of pop culture. Smith said: "It's the only audition where I've talked for a good hour about what we like: music, books, everything. Then we started the scene, and the camera ran out so we ended up doing it on Ryan's iPhone."
Well done, Matt. The actor racked up many "like a boss" moments over the course of his Doctor Who tenure. This one might be our favorite:
Here's a trailer of Matt in Gosling's Lost River, out in limited release on Friday (April 10):
See more:
Matt Smith Lands Role in 'Pride and Prejudice and Zombies'
Celebrating Matt Smith on His Birthday in 11 GIFs
WATCH: Matt Smith Does the Ice Bucket Challenge
Read More
Filed Under: