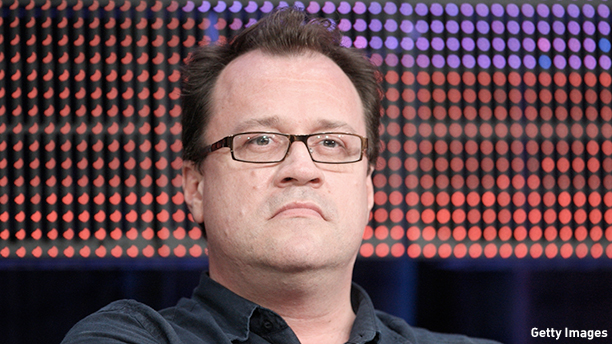 For Americans, Russell T Davies might be best known for shepherding Doctor Who into its modern era, but he's also responsible for some of the most richly detailed (and un-PC) representations of British gay identity in the past two decades. Back in 1999, he created the original, more cerebral version of the drama Queer as Folk for Channel 4, which paired a precocious 15-year-old (Charlie Hunnam) with a randy advertising exec (Aidan Gillen). He followed that up with the underrated 2001 ITV six-parter Bob & Rose, which provocatively explored a romance between a gay man (Alan Davies) and a woman (Lesley Sharp). Whovians will, of course, know his wonderful creation, the unapologetically omnisexual Captain Jack Harkness (John Barrowman) from BBC's Doctor Who and its more adult-oriented spinoff Torchwood.
This year, Davies has returned to depicting gay male experience with the evocatively named duo of series, Cucumber and Banana, which originally aired on Britain's Channel 4 and are set for U.S. premiere on the Logo network on tonight (April 13).
In an interview with Think Progress about the state of gay television, Davies laments the recent demise of HBO's Looking, a leisurely paced dramedy focused on the love lives of three San Francisco gay men. The series drew mixed reviews from its target audience, with some critics decrying the stories as "boring" and a poor reflection of the gay community.
"I loved Looking," Davies said, "It was a subtle piece of work, and I think, frankly, now that it's over I can just be blunt and say that went over people's heads. And if you didn't get it, you're a bit dumb. Because it was really subtle, really beautiful, really cleverly written, and seriously, I would suggest that if you didn't get it, take a deep breath, go back and watch it again.
"You know, if you're looking for cliffhangers and great big chase scenes and explosions, you're not going to get it. It's a story in which if someone chooses to have mac & cheese instead of a salad, they've just made a very big decision in their lives."
One of Looking's executive producers was Andrew Haigh, the British filmmaker behind the equally intimate gay indie Weekend starring Downton Abbey's Tom Cullen. When HBO released their statement that Looking would not receive a third season, the network promised that loose ends would be tied up in a one-off movie. Davies is pleased that we'll see the series wrapped up, adding, "Anything that gives us an Andrew Haigh movie is brilliant."
See more:
Russell T Davies Writes A Story For Bernard Cribbins
Brit Binge Watching: 6 LGBTQ Pieces You Can Stream Online
Brit Binge Watching: Five British Shows That Have Been Remade in the U.S. You Can View Online
Read More
Filed Under: