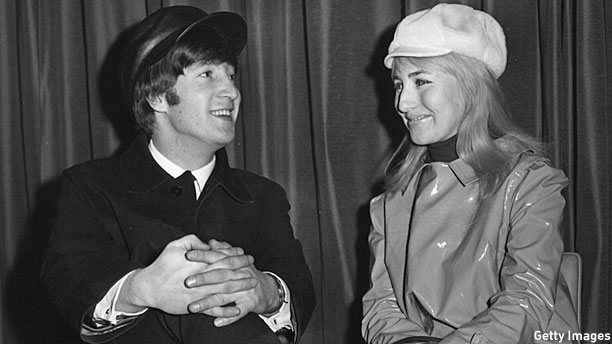 Cynthia Lennon, one of the few people with a perfect ringside seat to the phenomenon of the Beatles, first wife of John and mother of Julian, has died at the age of 75. She had been suffering from cancer.
A message on Julian's website said that he had been "at her bedside throughout," and thanked fans for their concern and prayers, next to this video tribute:
Cynthia became John's steady girlfriend shortly after he formed the band that would eventually become the Beatles. They met at the Liverpool College of Art in 1957, so she was around when John and Paul McCartney started sneaking off to write songs together, she was around when little George Harrison tagged along too, when the band first started gigging around Liverpool, and during the long months when they played the residencies in Hamburg that forged their abilities as a band.
Having become pregnant with Julian shortly before the band signed their first recod deal, Cynthia married John, and the pair moved into a flat that the band's manager Brian Epstein found for them. At the time the idea of a young pop heartthrob being married was unthinkable, so their relationship was kept a secret from the press, despite John frequently dropping his guard on the subject.
Then there was Beatlemania, the years when the four members of the group were the most famous young men in the world. The adulation and attention must have been impossibly exciting at first, and then just impossible shortly afterwards, and it was Cynthia, by now attempting to raise their son Julian, who had to deal with John's responses to these new and strange experiences; from the terrifyingly loud screams of Beatle audiences, to smoking dope with Bob Dylan, to experimenting with L.S.D. and writing a significant portion of the great British songbook.
The couple separated and divorced in 1968, after John embarked on a new life with Yoko Ono. Cynthia stoutly refused to badmouth her ex-husband unduly, with perhaps the odd veiled barb here and there to tip the wink to everyone that she was well aware that this was a most complicated man.
She told BBC News in 2009: "He was not to be confronted, let's put it that way. You either loved him or you hated him, and that's still the same now, even though he's not here. You either loved him or you hated him, but you could not ignore him.
Here's an interview she gave in 1995 from some of the key locations in her and John's past:
She later wrote two memoirs of her Beatle years, 1983's A Twist of Lennon (shortly after her divorce from third husband John Twist) and then John, in 2005. And she was involved in exhibitions pulling together various items of Beatle memorabilia, including Paul McCartney's handwritten lyric to "Hey Jules," a song of consolation to Julian once his father had moved out, which the Beatles recorded and released as "Hey Jude."
Looking back, she said: "I would never denigrate any of them, truly, because I think their talent was just magical. And it will go on forever."
See more:
Personality Quiz: Which Beatle Are You?
7 Clips We Want to See in Ron Howard's Beatles Documentary
10 Very British References in Beatles Songs
What Would Beatles Albums Have Been Like If They Had Never Split Up?
Read More
Filed Under: