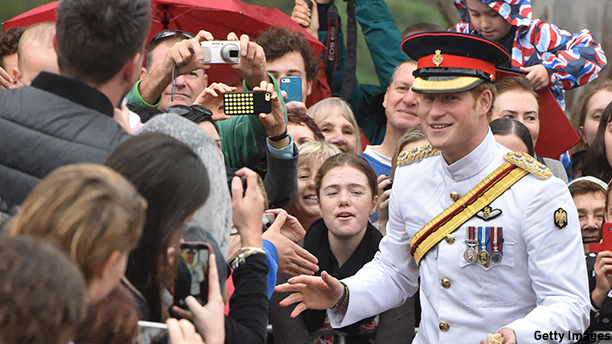 Is Prince Harry becoming wiser in his 30th year? Possibly.
Or he really just doesn't like selfies.
The young prince made a visit to Canberra, Australia on Monday (April 5) prior to his beginning a month-long assignment with the Australian Army.
He made an official public appearance in Canberra, where he took part in a wreath laying ceremony at the Australian War Memorial, and spoke to some young fans afterward. A teenage girl asked for a selfie, in which he replied, "No, I hate selfies," reports Yahoo!.
He cheekily advised the teenager, "I know you're young, but selfies are bad. Just take a normal photograph."
Well, we suspect the girl wanted to be in the snap, and that's one way to go about it when there are barriers between you and your idol.
Regardless, we're sure the fan was pleased to engage with the prince whether or not she got her selfie.
Selfies are out, but photo bombs are okay, Harry? Hmm.
Do you think she'll follow his advice going forward?
See More: 
Prince Harry Turns 30: A Year-By-Year Gallery of His Life So Far
BBC America Premieres 'Harry at 30′ Documentary
The Royal Photobomb: First the Queen, Now the Princes
Read More
Filed Under: