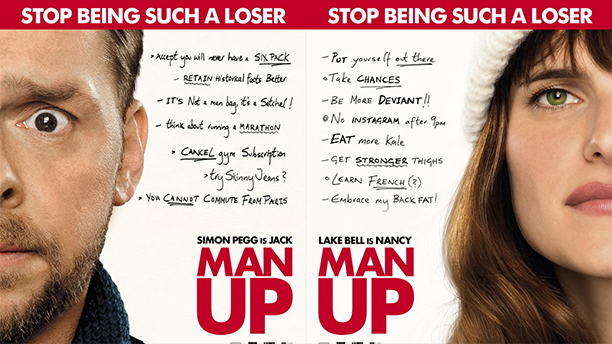 Some of us make lists to stay organized throughout the week, but Simon Pegg and Lake Bell make lists to remind themselves to stop being such losers in the new posters for their film Man Up.
The two lists are filled with ways to kick bad habits and reminders on how to be awesome. Some of the items overlap like with Pegg's note to himself, saying, "You cannot commute from Paris," which sounds like he might want to escape London; and Bell's not super confident aspiration to, "Learn French (?)."
It might be fun to cross-reference the two lists, and see if they are indeed compatible:
If that weren't enough reading material to keep us busy, a new clip has been released with Bell actually saying the affirmations out loud to herself:
These two don't spend the entire film pepping themselves up; they actually have a run-in at London's Waterloo Tube station. Bell plays an English woman in her thirties who is mistaken by Pegg as his blind date. When he spots her, they are both holding the same book, Six Billion People and You: A Guide to Meeting Your Mate in the Modern World, which was part of the meet up plan, hence the confusion. She could've corrected him, but that'd be boring.
Man Up is set to come out in the U.K. on May 29, 2015.
The U.S. release date is still to be determined.
Are you a list-maker? Do you follow the list!
See More:
WATCH: Simon Pegg Lands a Blind Date in 'Man Up' Trailer
British Summer Movie Preview: 9 Flicks on Our Watch List
WATCH: Welsh Man Starts an Online Campaign #FindMySisterABoyfriend
Read More
Filed Under: