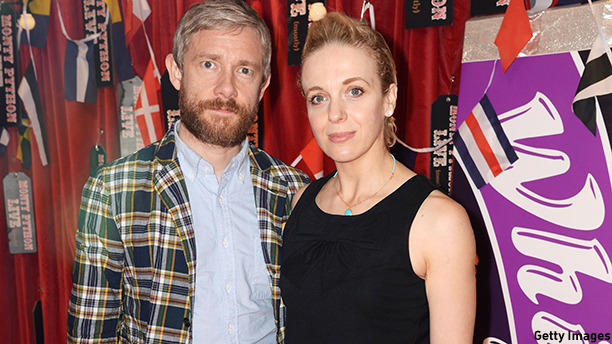 If you're a regular viewer of the Real Housewives series, you know how difficult it can be to watch with a non-fan in the room … due to all the groaning in the background.
British actress Amanda Abbington (Sherlock, Mr. Selfridge) discusses her weakness for American reality TV with What's on TV, saying, "I'm a huge guilty pleasures freak with stuff like The Real Housewives of Beverly Hills, and New York, I love all that."
What does partner Martin Freeman think?
She goes on to say, "Martin despairs of me and goes, 'Why are you watching this?'"
Abbington can't contain herself, busting at the seams, "It's good. It's just really good!"
The What's on TV interviewer asks who's in charge of the remote control, with Abbington replying, "He'd much rather watch hard, quite depressing documentaries. And I'd like to watch women shopping in Beverly Hills. So, yeah, we tend to fight over it [the remote]."
She's also a fan of E!'s new show The Royals starring Elizabeth Hurley, saying, "I've just started watching The Royals. It's incredible. It's an amazing show, and I'm seriously addicted."
The interview is topped up with Sherlock tidbits and a possible Mr. Selfridge scoop, which you can watch in its entirety at What's on TV.
What's your guilty pleasure TV show? 
See More: 
Martin Freeman and Amanda Abbington's Daughter's Career Goal
WATCH: Martin Freeman Gets the Giggles
Amanda Abbington: "I Really Had To Up My Game For 'Sherlock'"
Read More
Filed Under: