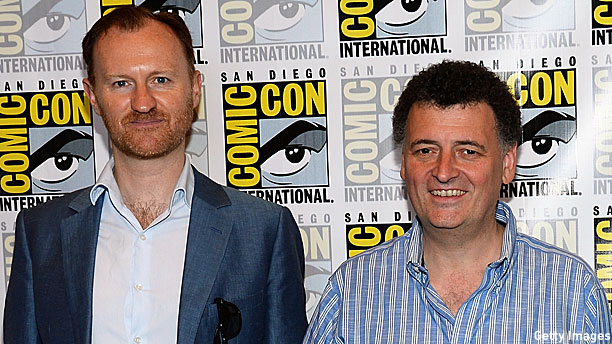 When it comes to collaborative endeavors, writing is not as easy as, say, making music or putting on a play. Someone has to do the typing, and there are few more frustrating feelings when you're in the middle of a hot idea than watching someone else operate a computer.
So all credit to Steven Moffat and Mark Gatiss, who have taken the step past reviewing each other's scripts for Sherlock and suggesting alterations, and worked entirely collaboratively on the script for the forthcoming stand-alone special.
Mark told Radio Times: "Over the years we've always been across each other's Sherlock scripts because we want it to be holistic. But the upcoming episode is the first time we've actually written together."
And rather than spend the whole time bickering over who gets to type and who gets to lie on a sofa with an arm draped dramatically over their forehead, it seems this collaboration was a lot of fun: "It's been a real joy. I think it will carry on for the next series."
Mind you, the series only exists because of the shared passion both men have for the works of Arthur Conan Doyle, so if any project is going to light their collective fire, it'll be one in which their modern day characters are returned to the Victorian era from whence Sherlock Holmes originally came.
"My mum got me The Adventures of Sherlock Holmes when I had German measles, aged ten," he explained. "I loved the flavour of Arthur Conan Doyle's stories. He was a master storyteller and you get a brilliant snapshot of Victorian Britain."
"Sherlock happened because Steven Moffat and I were in the same place, singing from the same hymn sheets. The idea of making Sherlock modern again was one of these light bulb moments. We just looked at each other and went, 'Someone should do that.'"
See more:
WATCH: Benedict Cumberbatch's 'Sherlock'-ish Car Ad for China
LOOK: It's 'Murder, She Wrote' Meets 'Sherlock' He Writes
LISTEN: 'Sherlock' Co-Stars Benedict Cumberbatch and Louise Brealey Read WWII Love Letters
Steven Moffat Confirms 'Sherlock' Special is 'Victorian'
Read More
Filed Under: