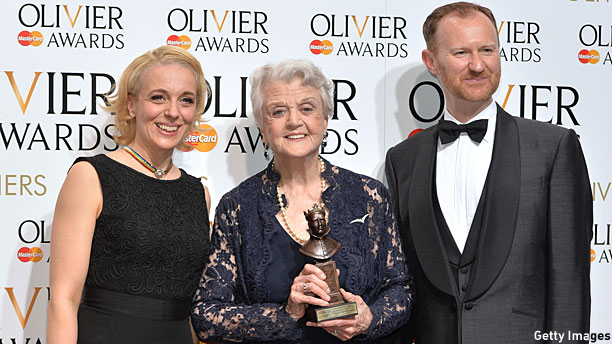 This is a fantastic picture, is it not? Amanda Abbington and Mark Gatiss flanking the great Angela Lansbury at last night's (April 11) Olivier Awards.
Angela was there to accept the award for best actress in a supporting role, given for her portrayal of the medium Madame Arcati in the Gielgud Theatre's production of Blithe Spirit, by Noel Coward. And Mark and Amanda were there to present the award, her first, if you can believe such a thing.
In her acceptance speech, she said: "All these years of waiting. I am so infinitely grateful to have this baby in my hands."
"Here I am creeping up to 90 and feeling like a million dollars because I'm in London in this magnificent hall with all you – my roots, where I began."
Other notable winners on the night include Mark Strong, who won best actor for A View from the Bridge at the Young Vic & Wyndham's Theatre, and Penelope Wilton, who won best actress for Taken at Midnight at Theatre Royal Haymarket.
Ray Davies of the Kinks was on hand to receive a clutch of awards for his band's jukebox musical Sunny Afternoon at the Hampstead Theatre & Harold Pinter Theatre. He received an award for outstanding achievement in music, while the show picked up the best musical trophy and the actors playing Ray and Dave Davies won best actor in a musical (John Dalgleish) and best actor in a supporting role in a musical (George Maguire) respectively.
Here's a trailer, to give you a clue as to what the fuss is all about (beat group pedants will of course have noticed that their Pete Quaife is left-handed):
The full list of winners is at the Olivier Awards site.
See more:
There Is Nothing Like A Dame: Angela Lansbury Meets The Queen
Angela Lansbury Makes Her Return to the West End
The Top 5 Unsettling Cameos Of Mark Gatiss
Five Reasons Ray Davies Deserves All of the Songwriter's Awards
Read More
Filed Under: