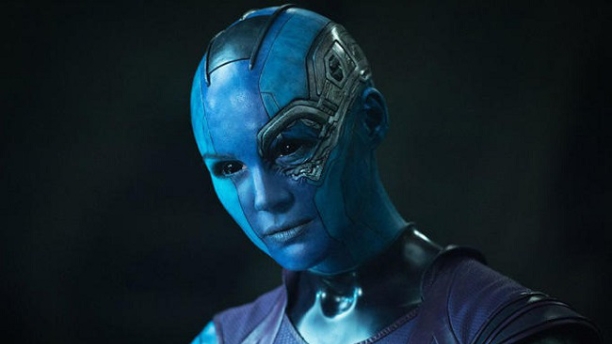 It was the role that required Karen Gillan to cut off her hair and and make a wig out of it, and now Marvel Studios want her to come back and do it again.
James Gunn, director of Guardians of the Galaxy, has confirmed that Nebula will be back in the sequel—still two years from general release—and that could mean a follicular dilemma for Karen: to cut it all off again, or not.
He's hoping not, but not as much as she is, having recently admitted she'd find it harder to do a second time: "I have a physical and emotional attachment to this hair. We'll have to see if I have to shave it. Maybe CGI will have developed further by the time we shoot it."
Mind you, Nebula did cut her own hand off in the first movie, which kind of puts the hair issue into perspective.
James took part in a recent fan chat on the social media site Periscope, and while he didn't comment on the matter of what Karen may or may not need to have taken off in order to properly get in character, he did say his version of the story has been handed it, and proper script-work is about to start before shooting begins in Atlanta next February.
"I turned in my treatment. I'm going to meet about it on Friday and we will start working on the screenplay next week."
And he was also able to confirm that there is one character that won't make it back to the screen this time. The recurring villain (in the comic books at least) Ronan.
He said: "Ronan is a bad guy, we killed him. Not everything is going to happen in the movies the same as the comics."
Guardians of the Galaxy 2 is slated for release on May 5, 2017.
See more:
Happy Birthday, Karen Gillan! 5 Projects to Look Out For
Snapshot: Karen Gillan Being Her Amazing Self on Twitter
WATCH: Karen Gillan in Final 'Guardians of the Galaxy' Trailer
Karen Gillan: "'Downton Abbey' Plus 'Harry Potter' Doesn't Make for a Good Aberdeen Accent"
Read More
Filed Under: