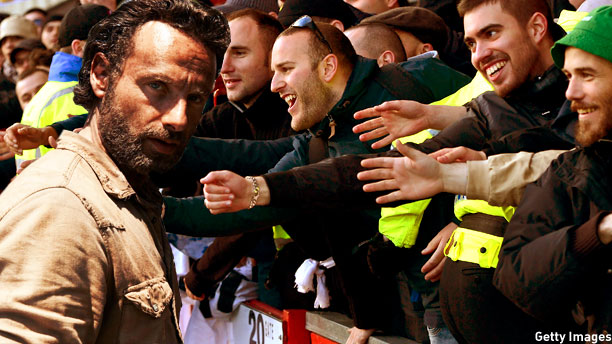 In the magpie world of TV, hot new ideas for TV shows scoot across the Atlantic in both directions all the time. For every show that started in the U.K. and became something else in the U.S. (The Office, Sanford and Son), there are just as many that started as a bright idea in an American TV exec's brainstorm and finished as a hit show in Britain (Blankety Blank, Geordie Shore).
But not everything can survive that kind of cultural exchange. Having already made our pitch for a British Man Vs. Food, here are five other shows that would need some serious Brit-ification before the cameras could start rolling:
Glee
Glee clubs aren't really a thing in British schools (even if you have seen The Choir), so this would have to tell the story of a group of secondary school students with nothing in common, who get together and form a poetry recital class (possible title: Satisfying Merriment). There's a scholarship student; a strident but swotty girl; some girls who are terrifically good at hockey, so they wear their games kit all the time; and a rugby player with a surprisingly sensitive streak. Sometimes they tackle the street level stuff—the Kate Tempest/George the Poet rhymes about life in the urban sprawl—sometimes it's the energetic recreation of a John Cooper Clarke or Roger McGough classic. But under the expert tutelage of their group's leader, the has-been wordsmith Mr. Shelley, they start to put their differences aside and prepare to take their poetry out to where it really matters, the regional heats of the Hay Festival of Literature and the Arts.
Orange is the New Black
Patricia Lasslady is a normal British housewife in Chelsea, by which I mean she's a cut above most other British housewives and rather looks down on the lower orders. Then, a life-shattering event: A conviction arises out of a ten-year-old dodgy deal her first husband was involved in, and she finds herself not only caught up in his business, but arrested, tried and convicted. This sudden drop in social status puts an intolerable strain on her relationships with friends and family, and of course she now has an entirely new (and rather scary) book of etiquette to learn.
Note: in British prisons, women do not wear uniforms. So the show would have to be retitled something like OMG Prison Is, Like, So Last Season or possibly Banged Up (which means imprisoned in the U.K., rather than pregnant).
The Walking Dead
All zombie stories are satirical in intent. They're about society, about feeling like the only sane/alive/rational person in a sea of vicious lunatics/corpses/idiots. So the British version takes the end of the world premise and places it in Bellingford, a well-to-do village in rural Oxfordshire. There's been a tremendous calamity: A train filled with drunken and shouty football supporters has broken down, and they've all decided they don't want to wait for the engineers to arrive. So they disembark, dropping litter as they go, and disrupting the golf course. Along the way, they encourage everyone they meet to drink from their plentiful supplies of premium strength lager. Richard Tidyup leads a small band of survivors, who are simply trying to keep their heads amid apocalyptic times.
Note: no reason to change the title, although there may be some disagreement between the invaders and the invadees as to which side is truly the walking dead. Class war is a bitter business.
Breaking Bad
Gordon Green is a struggling lecturer at a technical college in Inverness. When he is diagnosed with inoperable bowel cancer, he decides it is time to start brewing his own hooch in a shed in his back yard so that his family—Stephanie his wife, and children Gordon Jr. (also known as Jeremy) and Henrietta—will have a secure future when he dies. He uses the resources of the metalwork department to construct a still, with the help of James Blushington, a former student. As events take a turn for the complicated, he enlists the help of barrister Paul Decent, handyman Mitchell Ermintrude, and eventually a local brewery boss, Angus Frilling.
Note: because the British don't use the colloquialism breaking bad (to mean raising hell), the title of this show will be changed to Mucking About.
Elementary
The story of a sociopathic and arrogant detective with a weird name who solves crimes by being incredibly observant and then making lickety-split deductions using just his mind? Pah! As if THAT'S going to catch on in the U.K.
See more:
10 American Actors Who've Done British TV
WATCH: Aaron Paul on 'Breaking Bad's Difficult Transition to British TV: 'It's So Surprising'
5 Unexpected Weather Updates on Live British TV
Five British TV Shows That Have Been Around Longer Than 'Doctor Who'
Read More
Filed Under: