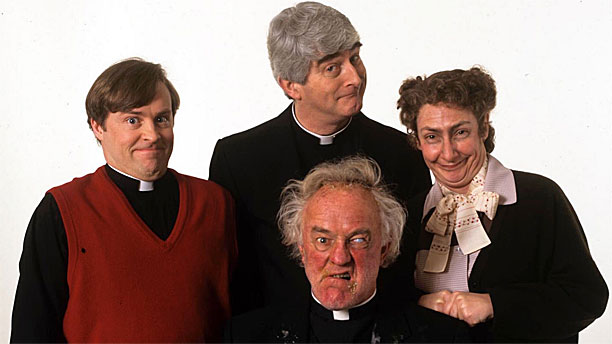 In the 20 years since Father Ted was first aired—on April 21, 1995—a lot has happened to the shape of British television comedy. Sketch shows like Little Britain and The Fast Show have fallen in and out of fashion; parlour room panel shows like QI and Never Mind The Buzzcocks have dominated schedules and mock documentaries like The Office have become a new comic archetype.
And one of the main reasons that Father Ted has endured where, say, Game On or The Thin Blue Line have not, is the extent to which it forms a bridge between opposing elements. It is both sharp and blunt, clever and stupid, innocent and cunning, up-to-the-minute and out-of-style. It defines its own reality, one in which priests have developed their own strange customs and culture as a result of being afflicted with what co-writer Arthur Mathews calls "the mad loneliness of men without women."
In fact, Father Ted is a sitcom about priests that has very little to say about religion, but everything to say about rituals and culture, particularly in Ireland, where it is considered not just a funny TV show, but a cultural landslide, a national awakening equivalent to punk rock.
The main characters—the puppyishly dim Father Dougal, the grotesque Father Jack and the worried, doomed Father Ted himself—are misfits stuck in an island parish because their behavior would not fit in anywhere else, but for all the ways that they are extreme, these are very familiar characters, particularly Mrs. Doyle and her overladen tea trolley. And all the other priests and bishops they encounter have just as many weaknesses and strange idiosyncrasies as they do.
That's just one of the layers of magic reality Mathews and his partner Graham Linehan heaped upon Craggy Island. Some of this comes from a love of classic British silliness like Monty Python, but if you look at the British comedies being made just before Father Ted, the series doesn't seem so out-of-place with its contemporaries. (And Ted was a British production, that's the lineage in which it was working.)
In the British TV schedules of 1994/5, there was a vogue for fake TV, in the news spoof The Day Today—which featured ideas from Arthur and Graham—and the chat show parody Knowing Me, Knowing You with Alan Partridge, both of which pushed at the boundaries of credulity while still appearing feasible. And we had The Fast Show, a mosaic of comic grotesques who only appear long enough to say their best piece and then vanish. These strangenesses seep into Ted far more than the comfy certainties of, say, The Vicar of Dibley.
And because Ted had this magical otherness, dressed down in the ancient and faded decor of the Old Parochial House on Craggy Island, the ebb and flow of cutting edge British comedy has left its reputation entirely untarnished. At the turn of the millennium, there was a run of hit comedies that had no audible audience reaction—Phoenix Nights, The Office, The Royle Family—which lead commentators to surmise that the traditional sitcom was dead (not an opinion which has ever unduly troubled the creators of American comedies, it must be said).
In fact, after deciding to bring Ted to a halt after three seasons—an event that coincided horribly with the sudden death of its titular star Dermot Morgan—Graham Linehan went on to repeat the trick with the same basic format, throwing out magic reality and silliness and lonely male oddness in front of a studio audience with great success. First with Black Books…
Then The IT Crowd…
And the Irish production The Walshes…
And most recently with the malaprop-riddled Count Arthur Strong:
And that's not the only legacy of this remarkable show. Mrs. Brown's Boys is currently, the most popular TV comedy on the BBC. It is a far less innocent show than Ted, being essentially a ribald Irish pantomime (complete with panto dame played by a man, Brendon O'Carroll) with strong language and adult themes, and a lot less of the magical reality. But it is similarly devoid of edge, and all the better for it:
Note the studio audience, the elements of farce, a little bit of deliberate absurdity and the liberal use of the word "feck" (which is different from the word you're thinking of) even in this relatively mild clip.
It's impossible to imagine that it would have become the hit that it is without the ground being so thoroughly prepared beforehand.
See more:
The Greatest Hits Of 'Father Ted'
'The IT Crowd': The Greatest Hits Of Maurice Moss
Five Irish Things The British Have Adopted
6 American Sitcoms Based on British Originals
Read More
Filed Under: