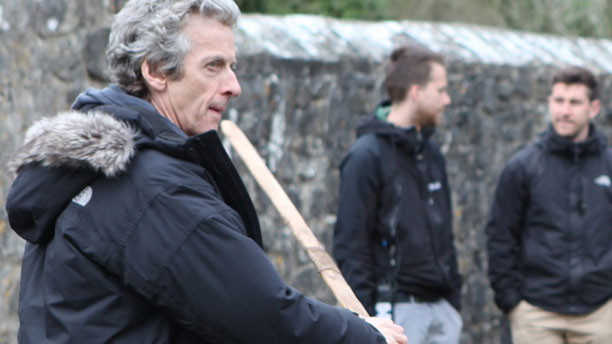 Welcome to Who's Day, a weekly collection of Doctor Who-related stuff that has taken place over the past week. And this week we begin with a remarkably illuminating interview with Steven Moffat conducted by Digital Spy and concerning Season Nine (spoiler-free, so read on with confidence).
There's a particularly notable section in which he explains his theory that actors who play the Doctor really come into their own in their second season, particularly Peter Capaldi, whose work he describes as "stunning."
He said: "There is something that happens [to actors playing the Doctor] when the part becomes theirs—it happened with Matt [Smith], it happened with David [Tennant] —you know that second series where you think 'actually, all the kids think I'm Doctor Who now, and I'm not working at it. It's just me.'"
He went on to explain how this has affected Peter Capaldi's Season Nine performance, saying: "He's just on amazing form at the moment. I think there's always a feeling when a new Doctor comes in, and it's not necessarily a bad thing, you think 'that's Peter Capaldi as the Doctor' or 'that's the Twelfth Doctor.' Now he's just the Doctor."
So that's a stunning Doctor, a change of rhythm to the stories, and to top it all, a sneaky shot of a new Season Nine monster:
Can't wait!
Here's what else has been going on in space and time this week:
• It was Jenna Coleman's birthday on Monday (April 27):
Happy birthday to the brilliant @Jenna_Coleman_! Revisit her first #DoctorWho appearance at http://t.co/gHfc5oHGJM pic.twitter.com/PR66NkU1Tx

— Doctor Who Official (@bbcdoctorwho) April 27, 2015
• Radio Times celebrated the event with 29 reasons that she is great.
• And last week, the charity One to One—to whom Jenna is an ambassador—released this video:
Our fab ambassador @Jenna_Coleman_ takes a break from #DocterWho to discover how we help children living with #HIV http://t.co/DWdBkRNroL

— One to One (@OnetoOne_CF) April 21, 2015
• Trock-rockers Legs Nose Robinson are back with a remarkably catchy new song devoted to the Weeping Angels: https://www.youtube.com/watch?v=byYJionl9tY • Huge congratulations to the Doctor Who team for winning the special, visual and graphic effects award at this year's BAFTA TV Craft awards. • Digital Spy ranked the top 15 monsters in Who history. • And Radio Times has a quiz asking which one you are. • Comedian and actor Rufus Hound is delighted to be in Season Nine: • Here's a special treat for Sarah Jane Smith fans. BBC Radio 4 Extra is serializing audiobook episodes of The Sarah Jane Adventures, as read by Elisabeth Sladen, and they're available to listeners worldwide for a week after broadcast. Listen to "The Glittering Storm" here. • Doctor Who producer Derek Richie gave us this brief update:
Series 9: Behind the ScenesCheck out this behind the scenes video of Doctor Who producer Derek Ritchie giving a brief update about the new series

Posted by Doctor Who on Thursday, April 23, 2015
• An interview with Peter Davison in which he describes the night "The Five(ish) Doctors Reboot" went out on air: "I remember we were all at the big 50th anniversary convention and I sat around the bar with Colin [Baker] and Sylvester [McCoy]—and we were just seeing all these tweets coming in, and comments from the fans, saying it was brilliant—and we sat up til literally 1:30 am, really excited, because it was just going down so well, much better than we thought it would!"
• Three Doctors, three new comics:
• Love this:
• Here's a remarkable find. It's an interview with a 14-year-old Lalla Ward—who would go on to play the second incarnation of the Fourth Doctor's Time Lady companion Romana—from a 1966 children's TV show called A Whole Scene Going:
• And finally, something astonishing from Player Piano pianist Sonya Belousova. It is fair to say that when it comes to playing the Doctor Who theme (and cosplay), she has gone the extra light year:
TTFN!
Read More
Filed Under: