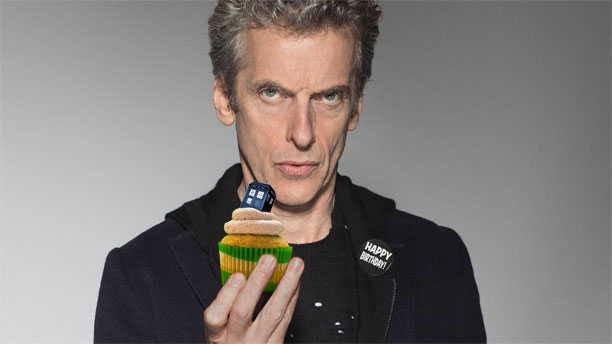 It's not been a bad week for Doctor Who-related birthdays, particularly for people called Peter. Yesterday (April 13) was Peter Davison's, and today it is Peter Capaldi's turn.
Naturally, as the current Doctor in residence, his is the one that has encouraged fans to unleash their creativity in tribute, particularly across Tumblr. Like this:
And this:
And this:
There's even a hand-drawn birthday comic:
To which we can only add our own congratulatory note, in the absence of cake. Happy birthdays all round!
Oh, and speaking of notes, the new BBC book The Time Lord Letters by Justin Richards is out in September, featuring correspondence flying everywhere (and everywhen) in the universe from the Doctor in the midst of his various adventures:
Here's what else has been going on in space and time this week:
• Ryan Gosling said that it was Doctor Who that first alerted him to the acting chops of Matt Smith, in reference to him being cast in Ryan's directorial debut Lost River:
• Matt was interviewed in the Independent, and also credits Doctor Who fans in the U.S. for giving him the chance to work in the movies: "Doctor Who is really growing in America. In the last three years, I've really noticed that every time I go back, there are more and more people coming to the show."
• And to celebrate Matt's ascension to Hollywood royalty, we compiled a list of the 13 best movies (one per Doctor) each actor who has played the Doctor has been involved in, including this startling moment where William Hartnell whacks Sir Richard Attenborough, in the 1947 adaptation of Brighton Rock:
• Now has an interview with Matt that features this quote from his former drama teacher, Matt Evans: "My lasting memory of Matt is him burning down the drama studio. He came running in, shouting: 'Sir, the studio's on fire.' You never knew when Matt was acting or being serious, so I told him not to be stupid. Within 10 seconds, smoke was coming down the corridor."
• Ever fancied trying your hand at making a Doctor Who puppet? Here's a few pro tips on how to do it:
• Metro compiled a list of actors who appeared in both Doctor Who and Star Wars.
• Maisie Williams of Game of Thrones fame was interviewed on BBC Radio 2 about her forthcoming part in Season Nine, and she resolutely refused to spoil a thing:
• Speaking of Game of Thrones…
• Karen Gillan continues to use conventions as a way of catching up with old friends:
Don't forget your VIP pass dear… Hanging with my #GingerSista @karengillan #MegaCon2015 #DrWho #DrWhoInline pic.twitter.com/ClT0kF6LlS

— Tony Curran (@TonyCurran69) April 11, 2015
And making new ones:
I would totally win this thumb war… pic.twitter.com/tJ07GFBcIw

— Karen Gillan (@karengillan) April 11, 2015
• Meanwhile Arthur Darvill is enjoying his research for Rip Hunter:
Tough day of "work" pic.twitter.com/LvDBaiLL9f

— Arthur Darvill (@RattyBurvil) April 8, 2015
• Yes but who was the first man in time? Exactly.
On this day in 1961, Yuri Gagarin became the first man in space. Or did he? New photo evidence suggests otherwise… pic.twitter.com/KuMfQjPNWM

— Doctor Who Official (@bbcdoctorwho) April 12, 2015
And finally, fancy a brew? This might be the best thing we've seen this week:
TTFN!
Read More
Filed Under: