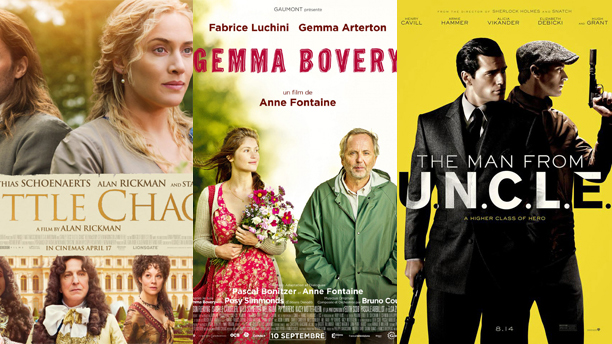 In December, we took a moment to highlight the Brit-centric movies coming out in 2015. We've already enjoyed a few premieres, including Paddington, The Second Best Exotic Marigold Hotel, and Fifty Shades of Grey. We're still on pins and needles for action flicks like Terminator Genisys starring Doctor Who's Matt Smith, and Mad Max: Fury Road starring Tom Hardy. In addition to the above, there's a fresh batch of Britished-up films coming out this summer:
1. Far From the Madding Crowd
Release Date: May 1
Synopsis: Carey Mulligan stars opposite Michael Sheen, Matthias Schoenaerts, and Tom Sturridge in the latest film adaptation of Thomas Hardy's love story. Mulligan portrays Bathsheba Everdene, who is courted by three suitors in Victorian England. Everdene has just inherited her uncle's land and has more on her mind than marriage.
The Pull: We're curious to see who wins her heart, if anyone. 
When to Watch: Opening night! It's this Friday, May 1.
2. Gemma Bovery 
U.S. Release Date: May 29
Synopsis: A British couple (Gemma Arterton, Jason Flemyng) moves to a small farm in France. Their surname, Bovery, sets off flags with the locals. The film is in both French with English subtitles, and English. The story is based on Posy Simmons' graphic novel.
The Pull: We're drawn in by stories that involve travel. Armchair traveling is the way to go; it doesn't require a passport.
When to Watch: This would be great for a midweek break at the cinema.
3. Survivor
U.S. Release Date: May 29
Synopsis: A young woman (Milla Jovovich) wakes up after surviving a bomb attack. She turns to a passerby (Pierce Brosnan) for help, but instead he pulls out a gun, which is aimed straight at her. She asked the wrong guy: It turns out he's a known assassin who goes by the name the Watchmaker. Now she's on the run.
The Pull: We love a good cat and mouse story. And, of course, who could turn away from anything starring 007's Pierce Brosnan? It's like the good ol' days.
When to Watch: We'd go on a Friday night and let the post-energy of the thrill continue into the wee hours of the night.
4. Testament of Youth
U.S. Release Date: June 5
Synopsis: The film adaptation pulls from Vera Brittain's memoir of her life and experiences during and post-WWI. The story revolves around a coming-of-age wartime love affair between Oxford student Brittain (Alicia Vikander) and soldier Roland Leighton (Kit Harington).
The Pull: This film hits all the major points: a heroine struggling to work in a man's world, romance, war, and time passing by, which no one can evade.
When to Watch: This is perfect for a rainy Saturday afternoon.
5. Spy 
U.S. Release Date: June 5
Synopsis: Melissa McCarthy plays a CIA analyst who is bored holding down a desk. Britain's sweetheart Miranda Hart makes her Hollywood debut playing McCarthy's supportive best friend. The Agency needs someone to go undercover who will go unnoticed, and rather than choosing between experienced agents played by Jason Statham and Jude Law, they go with more of the "lunch lady" type.
The Pull: This American-British hybrid has our name written all over it.
When to Watch: This would make a great Sunday matinee to kick off the work week right.
6. A Little Chaos 
U.S. Release Date: June 26
Synopsis: Alan Rickman directs and stars in this 17th century period film as King Louis XIV. Kate Winslet stars as Sabine De Barra, a French gardener who doesn't back down when working to get a design assignment at the new palace of Versailles.
The Pull: Rickman and Winslet reunite on screen 20 years after working together on Sense and Sensibility.
When to Watch: This would make a great date night movie.
7. Mr. Holmes
U.S. Release Date: July 17
Synopsis: Sir Ian McKellen stars as the semi-retired detective winding down to enjoy his later years until a cold case reopens. While still sharp, Mr. Holmes isn't as spry as he once was, and he finds himself relying on the aid of his housekeeper's (Laura Linney) 10-year-old son (Milo Parker).
The Pull: You had us at "Sir."
When to Watch: Any day. Every day. All day. Really doesn't matter in this case.
8. Self/less
U.S. Release Date: July 10
Synopsis: Ben Kingsley portrays an extremely wealthy man who falls ill. With the help of Matthew Goode's character, he is offered immortality. His consciousness is transplanted into another man's (Ryan Reynolds) young, healthy body. It's not clear if the new guy had a choice on the matter.
The Pull: Sci-fi is always a draw. We're keen to watch the twist and turns.
When to Watch: This feels like a good Thursday night flick, and then on Friday you can chat about it at the water cooler.
9. The Man From U.N.C.L.E
U.S. Release Date: August 14
Synopsis: Henry Cavill and Hugh Grant star in director Guy Ritchie's film adaptation of the 1960s TV series by the same name. Cavill portrays secret agent Napoleon Solo, who teams up with Russian agent Illya Kuryakin (Armie Hammer). Grant portrays the head of U.N.C.L.E (United Network for Command for Law and Enforcement) as Mr. Waverly.
The Pull: Superman gets a spy makeover. Sign us up.
When to Watch: Nobody likes Mondays, and this would be a good pick-me-up.
Which Anglo-style films are on your list to see?

See More:
15 Brit-Centric Movies We're Looking Forward to in 2015
The Greatest Movie Roles of the 13 Doctors
5 Misconceptions Brits Might Have About America from the Movies
Read More
Filed Under: