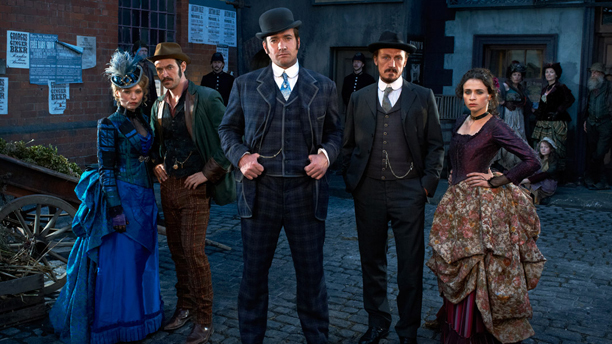 We're looking forward to the season three premiere of BBC AMERICA's Ripper Street on Wednesday, April 29 at 10/9c. If you need some refreshing, you can find seasons one and two of the fan favorite on Netflix. In the meantime, let's get to know the main cast with some of their earlier roles available online:
1. Matthew Macfadyen (Inspector Edmund Reid) 
Little Dorrit on Hulu
Macfadyen portrays Arthur Clennam in the British miniseries Little Dorrit, which is based on Charles Dickens' novel of the same name. The story follows Amy Dorrit (Claire Foy), a young woman in 19th century London who works to support her family while her father is incarcerated for debt-related issues. Clennam goes out of his way to help the Dorrits.
Death at a Funeral on Amazon Instant
While funerals tend to be sad for the obvious reasons, this British comedy is kind of an uplifter. Macfadyen plays a young man who gets a big surprise at his father's funeral when Game of Thrones' Peter Dinklage turns up with a confession of sorts.
2. Adam Rothenberg (Captain Homer Jackson) 
House M.D. on Amazon Instant
American actor Rothenberg swung by Anglo favorite Hugh Laurie's series House M.D., guest starring in season six's episode "Private Lives." The episode revolves around a female blogger (Laura Prepon) who writes about her entire life, even her stay in the hospital. Her boyfriend (Rothenberg) isn't so keen on her candidness and his appearances in her blog posts.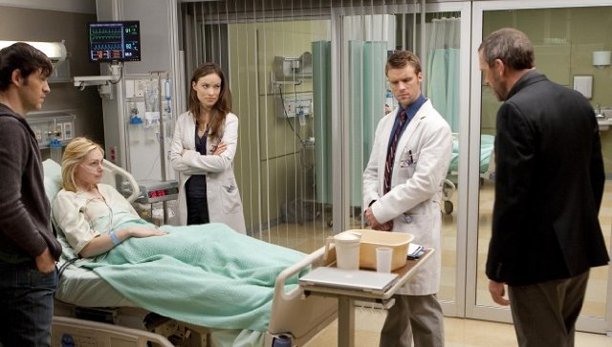 Elementary on CBS.com
Rothenberg might be an Anglophile just like us because his CV has a British flair to it. He also guest-starred on CBS's modern take on Sir Arthur Conan Doyle's story of Sherlock Holmes. Rothenberg joined British actor Jonny Lee Miller (Holmes) in the first season of Elementary in the episode "You Do It Yourself." Sherlock investigates the murder of a professor who was found with a bullet in each eye. Ouch. Rothenberg portrays Liam Danow, a former lover of Dr. Watson (Lucy Liu). Swish swoo.
3. Jerome Flynn (D.I. Bennet Drake)
Game of Thrones on HBO Now
We're not sure how he does it, but Flynn manages to juggle major starring roles in both Ripper Street and Game of Thrones. Now that's keeping an eye on job security. In HBO's GoT, Flynn portrays Bronn, one of many disposable soldiers who is knighted based on his successes in battle, soon rising in both the military and socially.
4. MyAnna Buring (Long Susan) 
Downton Abbey on Amazon Instant
Buring joined the established period drama in the season three Christmas special and continued into the fourth season, starring in the first four episodes as the maid Edna Braithwaite. It may be youth, but Edna is more interested in stirring the pot than getting her hands dirty with housework.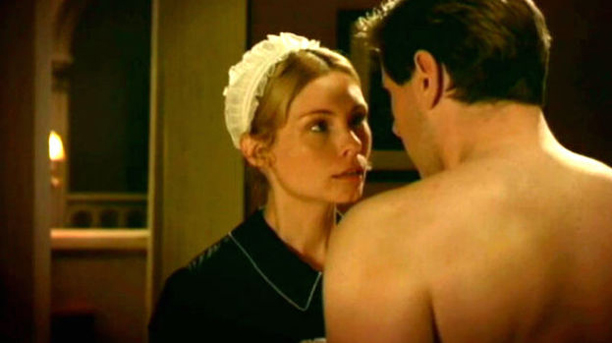 Doctor Who on Hulu
Buring joined the Doctor (David Tennant) in 2006's "The Impossible Planet." The Doctor and companion Rose Tyler (Billie Piper) land on an alien planet, and are greeted with the words "Welcome to Hell" scrolled on a metal wall. It's not quite the welcoming one would want. The Doctor figures out that they're on a sanctuary base, which is maintained by Scooti Manista (Buring).
The Descent on Hulu
The Descent starts off innocently enough when a seasoned group of climbers head to the country for a cabin retreat and a bit of exploring. Things get a little weird when they traverse into a cave system but can't make their way out. "Welcome to Hell" isn't written on the wall, but it may as well have been, based on the ghoulish beings they meet below.
5. Charlene McKenna (Rose Erskine)
Skins on Netflix
McKenna starred in two episodes of Skins in 2013's "Pure: Part 1" and "Part 2." She plays a girl named Maddie who befriends her neighbor Cassie (Hannah Murray). Cassie discovers random photos of herself online and has no idea who is taking them. Maddie helps her new friend figure out what to do.
Jump on Netflix
This 2012 film, based in Northern Ireland, revolves around three story lines that intersect on New Year's Eve. While most our ringing in the New Year, Marie (McKenna) and her friend our trying to outrun criminals.
You should be able to watch all of these by the return of Ripper Street!
See More:
Brit Binge Watching: Movie Depictions of Female British Royals Available Online
5 Eddie Redmayne Roles You Should Watch Online
Brit Binge Watching: Five Interesting Biopics Available Online
Read More
Filed Under: