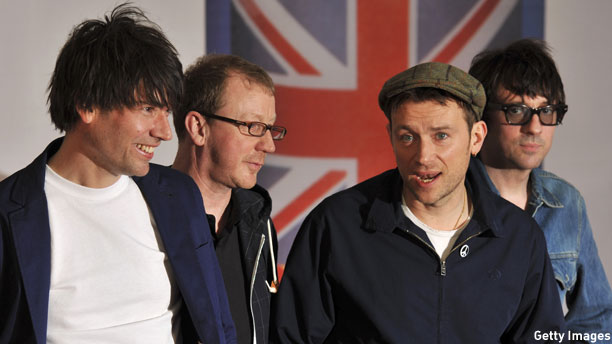 If you're a true musical Anglophile, based in New York, you'll want to get to Brooklyn's Music Hall of Williamsburg on Friday night (May 1) to see the triumphant return of Blur—a key band for any true musical Anglophile—for their first headline gig in New York for 15 years.
The gig is in support of their (terrific) new album The Magic Whip, which was assembled by guitarist Graham Coxon from a pile of two-year-old band jams based on singer Damon Albarn's Garageband demos, which were recorded on a 5-day layover in Hong Kong. They'll be playing the whole thing live.
To get tickets, you'll need to register at 12pm EST today (April 29) at Converse-Music.com/Blur, and you'll be entered into a draw. And if you're not lucky enough to get one, or live too far away, the band will be appearing on The Tonight Show Starring Jimmy Fallon tomorrow night (April 30).
Here's "Ong Ong", one of the best songs on the album, which was released this week:
See more:
WATCH: The London Underground Sings Blur
To The End: Blur Bow Out At The London Games' Other Closing Ceremony
Will Blur Tour America Again?
Is It 1994? Take That with Robbie Williams? Blur Reunited?
Read More
Filed Under: