We already know about Benedict Cumberbatch being distantly related to most of the genuine people he plays (Alan Turing and Richard III in particular), and anyone that hasn't spotted a distinct family resemblance between Joan Collins the actress and Jackie Collins the writer (clue: they both have their father's surname) isn't really paying attention.
But here are 10 other celebrity family ties that you may not already be aware of. No siblings this time, we're going so far up the family tree there's a distinct risk of knocking kindred apples down and whacking passers-by on the noggin.
Ralph Fiennes and Prince Charles


Ralph Fiennes and his actor brother Joseph are eighth cousins of HRH Prince Charles. And in possibly related (pun intented) news, both men can claim a direct—if slightly zigzagged—family link back to James II of Scotland, who ruled from 1437-1460.
Harry Melling and Patrick Troughton


A multigenerational crossover between the worlds of Doctor Who and Harry Potter (Harry played Dudley Dursley in the Potter movies). But the relationship is actually fairly simple to define, devoid of all magic or Time Lord science: Patrick's daughter Joanna is Harry's mum.
Lily Allen and Harry Enfield


Oh sure, she's Alfie Allen's sister and Keith Allen's daughter, but both Lily and Alfie are the former step-children of the comedian Harry Enfield, sort of. Well, Harry used to date their mum Alison for a few years, and lived with them for a bit. And he refers to himself as their "common-law step dad." So it counts!
Emilia Fox, Pierce Brosnan and Billie Piper


Right, this is going to get fiddly. But Emilia Fox stands at quite the celebrity crossroads, familywise. She is the daughter of the great Edward Fox and her ex-husband Jared Harris is the nephew of Cassandra Harris, the late wife of James Bond star Pierce Brosnan. And of course, Emilia's first cousin is Laurence Fox, and he is married to Billie Piper. Christmas must be fiddly.
Kim Cattrall and Ringo Starr


Kim, who was born in Liverpool, is fond of telling interviewers that her grandmother babysat for Ringo Starr, back when he was just little Richard Starkey.
Thomas Sangster and Hugh Grant


Thomas (also known as Thomas Brodie-Sangster), star of Doctor Who and Love Actually, is the second cousin of Hugh Grant, star of Four Weddings and a Funeral and Love Actually. Hugh, by the way, is a descendent of both Henry VII, via his mother's family, and James IV of Scotland. This probably means he's very distantly related to the Fiennes boys too, time, royalty and genealogy being what they are.
The Duchess of Cambridge and Guy Ritchie

The director of the recent Sherlock Holmes movies is a fourth cousin of Kate Middleton and, as such, received an invite to the Royal Wedding. Of course, dealing with royalty is second nature to Guy, having been married to Madonna (Queen of Pop) for a while.
Robert Pattinson and Vlad the Impaler


Ancestry.com managed to unearth three notable people in the Pattinson family tree. There are Princes William and Harry, of whom Robert is a distant cousin, and then there's Vlad, king of Wallachia, brutal warlord, impaler and inspiration for Bram Stoker's Count Dracula.
And while we're on the supernatural:
Emma Watson and Joan Playle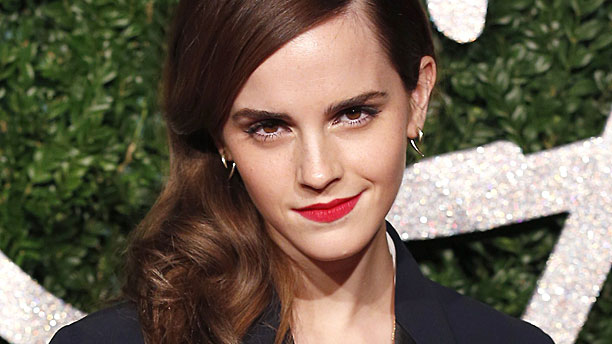 I know, right? Who could have predicted that Emma, most famous for playing a witch in the Harry Potter movies, would turn out to be a distant relative of Essex's own Joan Playle? Actually, she's not that well known, but she was genuinely convicted of witchcraft in 1592 and excommunicated. Which goes to prove how far we've come in the rehabilitation and acceptance of magical folk in the last 400-odd years.
But this last one is total fooey:
Robbie Williams & Simon Cowell

According to IMBD (and quite a few other places), Simon Cowell's sister Lindsay is married to Robbie Williams's cousin, making the British pop star and the grumpy judge cousins-in-law. Which would be fine except Simon Cowell only has a half-sister, June, and her husband is not related to Robbie in any way beyond the usual common ancestors we all share. This is something you'd imagine both men are quietly rather pleased about.
See more:
Emma Watson: Playing Belle will be "Terrifying"
WATCH: Hugh Grant Recommends Travel Sites in Britain
WATCH: Ralph Fiennes Shows Off Comedic Skills in 'Grand Budapest Hotel'
10 Little-Known Facts About the Real Wolf Hall
Read More
Filed Under: