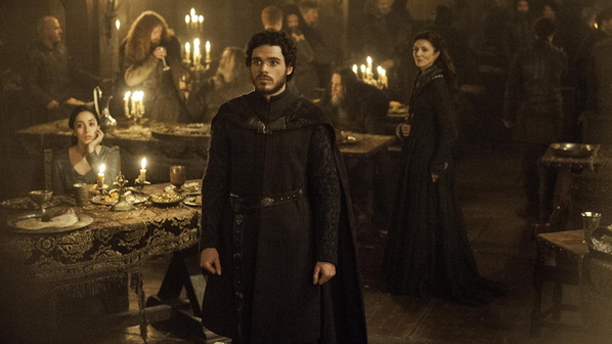 It's difficult to wrap your mind around George R.R. Martin's fantastical stories as seen in the TV adaptation Game of Thrones. How did he come up with these densely plotted tales? While the story of the Seven Kingdoms is indeed imagined, there are some story lines that have struck a chord with viewers as possibly having parallels in British history.
There are a number of theories about British influences floating around, but here are five that were confirmed by Martin himself:
1. Westeros
The world of GoT is based in Westeros for the most part and could be compared to Medieval Great Britain, with Martin telling Empire Magazine, "Westeros is probably closer to medieval Britain than anything else. Geographically, it occupies a somewhat similar position off a larger continent, although Westeros is considerably larger and is, in fact, a continent itself, more like South America."
2. Wars of the Roses
The War of the Five Kings, which the series revolves around, erupts over the struggle for control of the Iron Throne. Martin has talked about the War of the Roses being inspiration for the brutal battle, telling Channel 4, "British history has played an enormous impact on Game of Thrones and A Song of Ice and Fire. The Wars of the Roses are probably the single biggest influence. I've drawn from French history, and Scottish history, and other things, but at the center of it all is the Wars of the Roses. I have the Lannisters and the Starks, and in real life it was the Lancasters and the Yorks."
3. Hospitality Laws
We talk about British terminology on Anglophenia, and "gutting" comes to mind when thinking about the first time watching "The Red Wedding." If you were like me, you may have been screaming at your television like, "Noooo. Whaaaat? This. Is. Not. Happening." This scene was extremely gutting, you could feel the loss in your stomach, and there's a reason the Starks' were not expecting an attack, with Martin telling Entertainment Weekly: "Hospitality laws were real in Dark Ages society. A host and guest were not allowed to harm each other even if they were enemies. By violating that law, the phrase is, they 'condemn themselves for all time.'"
4. Hadrian's Wall
Back in 2000, before the novels had been made into a TV series, Martin sat down with SF Site and confirmed the Wall, protected by the Night's Watch, is based on Hadrian's Wall, which he visited while in Scotland, saying, "I stood on Hadrian's Wall and tried to imagine what it would be like to be a Roman soldier sent here from Italy or Antioch. To stand here, to gaze off into the distance, not knowing what might emerge from the forest. Of course, fantasy is the stuff of bright colors and being larger than real life, so my Wall is bigger and considerably longer and more magical. And, of course, what lies beyond it has to be more than just Scots."
5. The Iron Throne 
Martin talks about the look of the Iron Throne on his blog called Not a Blog, saying, "There is no real Iron Throne. It doesn't exist. I made it up. I said it was made of melted swords, but really, it was made of words, like all such fictional constructs." He talks about having sat in a wooden throne in 1996, but he doesn't confirm the location. And that it's built by blacksmiths, not by craftsmen who are experts in furniture making. Martin went a step further to try and help fans picture the Iron Throne as he sees it, telling Business Insider, "If they would give us St. Paul's cathedral … after a year, build a giant throne like that and dominate the entire thing, go halfway to the ceiling, then you could get the Iron Throne the way it's described in the book."
Do you have to remind yourself that George R.R. Martin is American? 
See More: 
Conan O'Brien Probes 'Game of Thrones' Author About Killing Off Characters
'Game of Thrones' Actress Hits the Streets: 'Princess for Hire'
10 'Game of Thrones' Stars Who Have Appeared on 'Doctor Who'
Read More
Filed Under: