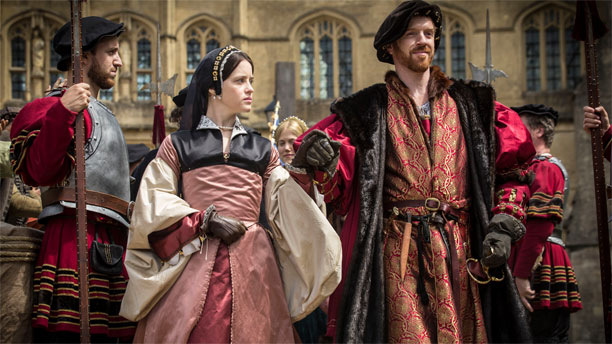 This Sunday (April 5), the recent BBC adaptation of Hilary Mantel's Wolf Hall and Bring Out The Bodies comes to PBS, starring Mark Rylance and Damian Lewis. It's the story of Thomas Cromwell, a lawyer and former mercenary from a poor background who ended up becoming an advisor first to Cardinal Thomas Wolsey, and then to Henry VIII. And in doing so became one of the most powerful men in England.
It's a particularly auspicious moment in British history, as Thomas becomes involved in Henry's attempts to legally dissolve his marriage to Catherine of Aragon, woo Anne Boleyn and sire a male heir. And in doing so, create a permanent rift between the English church's break and Rome, which is set against the background of protestant reforms, and leads directly to Henry's dissolution of the monasteries, claiming all the treasures found for his own coffers.
Wolf Hall is a fascinating fictionalized account of a man who historians have often decried as cold, scheming and vicious.
So before it all kicks off, here are ten useful snippets of information you may wish to get clear before immersing yourself in all the political shenanigans and dark, candlelit corridors:
1. Almost nothing of note happens in a place called Wolf Hall. Actually, Wolfhall (or Wulfhall) is the site of a manor house, home of the Seymour family in Burbage, Wiltshire. The family's daughter Jane would go on to become Henry's third wife.
2. Wolf Hall is mentioned in the Domesday Book as Ulfela, an Anglo-Saxon name, and it will have been a small village; a meeting point between several farmsteads. This later became Ulfhall and then Wulfhall. So the Seymour manor house was not named Wolf Hall, it was built IN Wolfhall.
3. There is a Cromwell family tie to Wolfhall too, as Cromwell's son Gregory later married Elizabeth Seymour, sister of Jane and (like Jane) one of the servants in Anne Boleyn's household.
4. The original manor house at Wolfhall was a medieval timber-framed manor house with a long gallery, a 'Little Court', a 'Broad Chamber', a chapel, a kennel for hounds, and a tower (which was pulled down in 1569).
5. Henry stayed there in 1535, during his marriage to Anne Boleyn, which may have been when he first began to pitch woo at Jane Seymour.
6. He was not the first reigning monarch to use Wolfhall as a staging post. Edward I visited in 1302, on a journey across Wiltshire between Marlborough Castle to Ludgersall Castle.
7. Although Thomas Cromwell was instrumental in clearing the way for Henry to marry Anne Boleyn, it was his skill as a match-maker that later caused his fall from grace. Having arranged the marriage between Henry and his fourth wife, the German princess Anne of Cleves, Cromwell was surprised to discover Henry did not take to Anne at all, and in fact had the marriage annuled on the grounds that it had not been consummated. He was later arrested for treason.
8. The title of the book, and therefore the TV series, uses the name of the Seymour home as an atmospheric hint that we are in the realm of the Latin expression homo homini lupus, or "Man is wolf to man." In other words, this is a dog-eat-dog world, with Henry at the head of the pack.
9. By 1571, the manor house at Wolfhall lay derelict, as the family had moved to nearby Tottenham House, taking some of the materials to build their new home. It was used for servants quarters for a while, and finally demolished in 1723. Some elements did survive into the early 20th century, including a barn which was said to have played host both to a wedding feast for Henry and Jane, and a subsequent feast just for Henry when he revisted after Jane died. But that burned down in the 1920s.
10. There was a Victorian railway junction with the name of Wolf Hall, but that's gone now. However there is still a dairy farm that uses the name.
See more:
Personality Quiz: To Which British Era Do You Belong?
20 Historical Figures Who Have Appeared In 'Doctor Who'
5 British Breakfasts From History
It's Official: David Bowie is A Better Dresser than Elizabeth I
Read More
Filed Under: