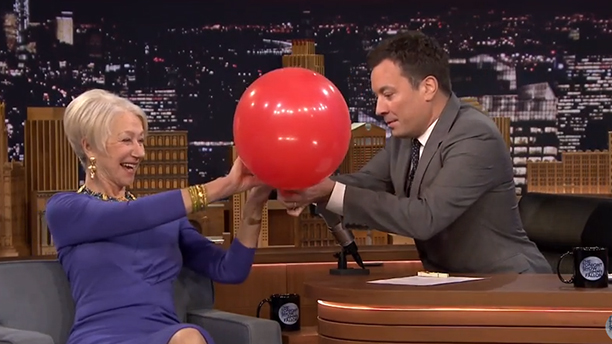 A balloon filled with helium is too tempting to turn down, even for Dame Helen Mirren.
The Tonight Show's Jimmy Fallon is dazzled by Mirren's posh accent, which she explains is sometimes heightened for the screen. The late night host dares the British actress to test out her elegant accent after downing helium from a balloon he just happens to have on hand for their chat.
Mirren exclaims, "I haven't done this since I was about 11!" Fallon tries to twist her arm, but she doesn't need any budging, she's in, saying, "Absolutely."
The two have fits of giggles when trying to make contact with their balloons, but they finally inhale some helium.
You can check out Mirren's helium-fueled acceptance speech in the below video:
Can you turn down a helium balloon?
See More:
Brit-Spotting: Dame Helen Mirren Rides the NYC Subway in Style
Dame Helen Mirren, What Are You DOING?
WATCH: Dame Helen Mirren Plays Juliet For 10 Seconds
Read More
Filed Under: